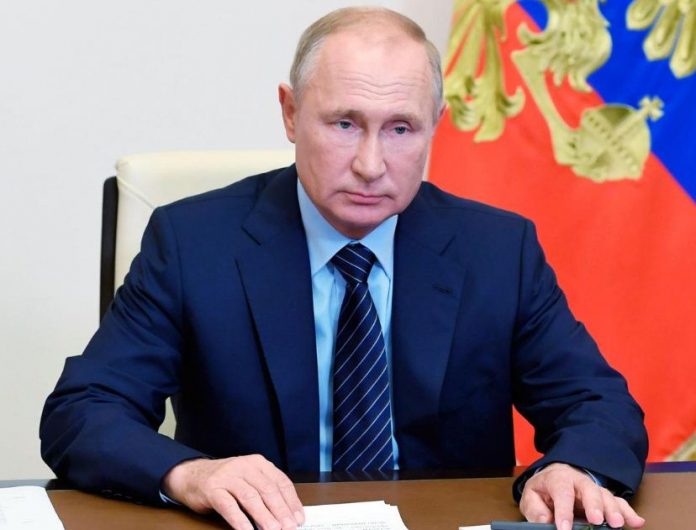 Russia is determined to further expand mutually beneficial cooperation with Sri Lanka on trade, economy and culture, Russian President Vladimir Putin said.
"We have good relations with Sri Lanka. Our countries interact constructively in the international arena, in particular, as part of the Shanghai Cooperation Organisation, where Sri Lanka has the status of a dialogue partner," the Russian President told the diplomats on Tuesday in the Kremlin.
President Putin received letters of credence from 20 newly arrived foreign ambassadors at a ceremony in the Alexander Hall of the Grand Kremlin Palace as per the tradition. Among those who presented letters of credence was Sri Lanka's Ambassador to Russia Prof. M.D.Lamawansa.
"This year has been very difficult and unpredictable for all of us. As I said, the world is facing the coronavirus pandemic. This required the adoption of extraordinary measures both in Russia and in all your counties.
"I am convinced that in the face of such an unprecedented challenge, the international community has no alternative but to join efforts. After all, the cornerstone is the fundamental value: the lives and health of our citizens. "As you know, Russia has developed and is already using the world's first vaccine against coronavirus, Sputnik V, and the second EpiVac Corona has also been registered. Now the most important thing is to ensure mass production in Russia and start a public vaccination campaign. Our third vaccine is also almost ready.
"We are ready to share our experience with all interested states and international agencies. Together with a number of our foreign partners, we are working out the issues of launching the production of these vaccines locally at our partners' production base," President Putin outlined in his address at the occasion.
"The allied spirit and a desire for honest cooperation among partners are especially in demand in the current situation. I am convinced that despite all the current difficulties and differences, it is necessary to vigorously remove them, move forward and promote a unifying international agenda.
"I have mentioned just a few aspects of Russia's relations with the states you represent. These are just small parts of the broad field of interaction we enjoy with your countries. We look forward to seeing these relations develop dynamically with your active participation for the benefit of the peoples of our countries and in the interest of international security and stability," he added.