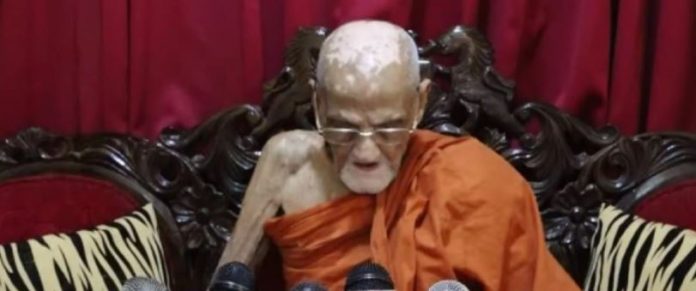 The Mahanayake of the Ramanna Maha Nikaya, the Most Venerable Napane Pemasiri Thero on Tuesday (13) said he was not aware of the press conference which was held on Monday (12) presided by the Registrars of the Sri Lanka Amarapura-Ramanna Samagri Maha Sangha Sabha.
Speaking to reports, the Most Venerable Thero said monks from the Ramanna Sect should not get involved with politics adding if a meeting had taken place on Monday (12) he should have been updated about it.
The Most Venerable Thero said it is unwise for statements to be made without making the Mahanayake Thero aware of such events.
On Monday, the Amarapura-Ramanna Samagri Maha Sangha Sabha announced it opposed the 20th amendment, citing it will pave the way for an "undeveloped tribal society".
"…the Sangha Sabha decided to make a strong emphasis to the government that they should not pass the proposed 20th amendment," the council said in a statement.