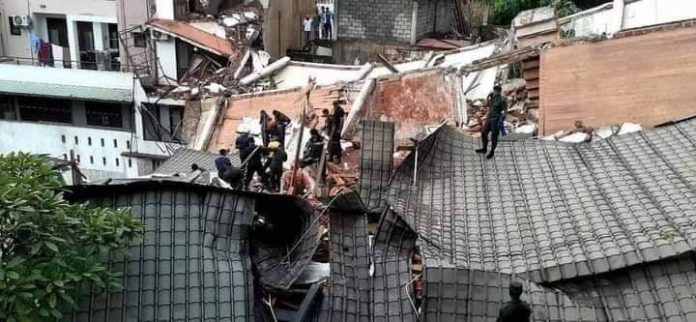 The five-storied building, which caved-in and collapsed in Buwelikada, Kandy on Sunday (Sept. 20) was built blocking a valley path, the National Building Research Organisation said.
"The multi-storied building was constructed on loose layers of soil in the respective valley region. As a result, the building had caved-in, as the soil layers could not bear the weight of the construction," Samantha Bogahapitiya – NBRO's Geologist in-charge of the Kandy district, told media on Monday (Sept. 21).
According to Geologist Samantha Bogahapitiya, four families in the area were temporarily relocated, taking into account the prevailing conditions.
Meanwhile, Chairman of the Geological and Mines Bureau, Anura Walpola confirmed that the collapse was not caused due to a tremor.
Three people including a two-month-old infant died after a building located down Sanghamitta Mawatha in Buwelikada, Kandy caved-in and collapsed around 5:00 yesterday morning (Sept. 21).
The victims are Chamila Prasad, who was a businessman by profession, and his spouse Achala Ekanayake who worked as a lawyer.
Sri Lanka Army and Police managed to rescue three others who were buried under the debris following the collapse.