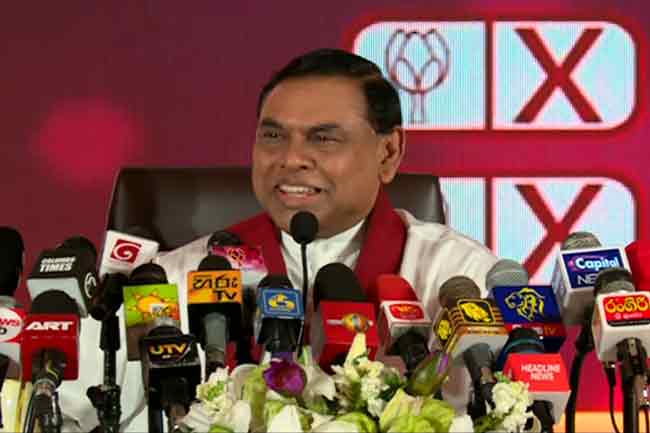 National Organizer of the Sri Lanka Podujana Peramuna Basil Rajapaksa has called on all those contesting from the SLPP as well the present Mayors and Chairpersons of government bodies to operate in a proper manner.
" Mahinda showed mercy to Mervin Silva. But, it will not be the case this time," warned Basil Rajapaksa.
He also slammed the SLPP nomination board for awarding nominations to certain individuals, who he sees as unfit.
Speaking at a campaign meeting, Rajapaksa said, recently a female candidate sent him a video clip where she said the SLPP awarded nominations to mules and horses and requested for his feedback.
" I responded saying, though there are no mules and horses among candidates, there was definitely was a mule in the nomination board and that is why you were given a nomination," said Basil Rajapaksa.
On the 09th of July, Oshadhi Hewamadduma contesting from the SLPP said President Gotabaya Rajapaksa will endure the fate of the former government if intelligent individuals are not elected to parliament.
She further said the SLPP awarded nominations for mules and horses adding the people must only vote for the horses and not the mules.
SLPP Candidate Vidura Wickramanayaka blamed the party leadership for making errors in awarding nominations to contest the election.
He stressed the upcoming General Election, is one where mistakes of the past can be rectified.