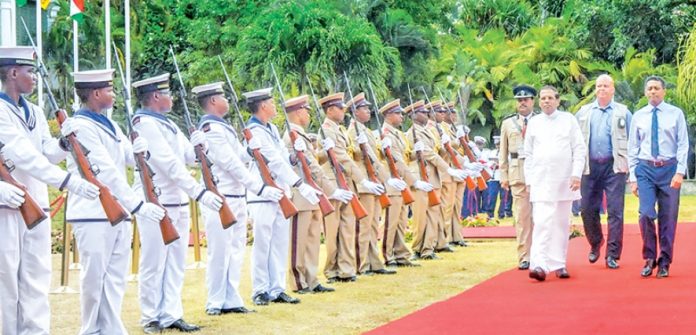 President Maithripala Sirisena and Seychelles President Danny Faure yesterday agreed to strengthen bilateral ties in the tourism and trade fields.The two Presidents also agreed to en hance cooperation in a number of other areas and promised to further strengthen bilateral ties.
President Maithripala Sirisena who is on a two day official visit to Seychelles at the invitation of his Seychelles counterpart Danny Faure agreed to offer 10 scholarships to Seychelles students in the vocational training field in Sri Lanka. The President also hoped to get more Sri Lankan businessmen to participate in a trade exhibition to be held in the Seychelles.
President Sirisena on arrival at the State House in Victoria was warmly received by President Danny Faure.Bilateral discussions were held between the two leaders following a Guard of Honour accorded to President Maithripala Sirisena at State House.
President Sirisena also stressed the importance of strengthening ties between the business forums of both countries. Discussions also focused on bilateral and regional issues.President Danny Faure commended President Maithrpala Sirisena's effort to eradicate the drug menace in the country and sought Sri Lanka's assistance to eradicate drug scourge in Seychelles too.
He thanked President Sirisena for Sri Lanka's assistance to promote health sector in Seychelles. President Faure also requested President Sirisena to secure training facilities for Seychelles doctors in Sri Lanka. He also sought training opportunities for Seychelles Security Forces personnel in Sri Lanka. President Sirisena promised to look look into their requests soon.
The two leaders also signed two agreements aimed at furthering more close ties between the two nations. An agreement was also signed between the Moratuwa University and the Seychelles University.The University of Vocational Technology, Sri Lanka signed another agreement with the Seychelles Technology Institute.