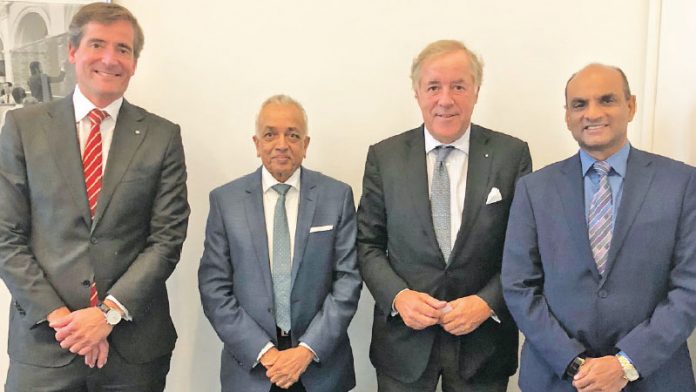 The Ministry of Development Strategies and International Trade, together with the Board of Investment, Export Development Board, and the AHK Germany, led a successful investment and export promotion visit to Germany last week.During the 3-day 3-city promotion mission led by Malik Samarawickrama, Sri Lanka's interests and capabilities in the trade and investment arena were showcased to a range of German and European investors ranging from international logistics players, high-end equipment manufacturers, to importers of processed products.
The delegation also comprised a private sector team drawn from apparels, logistics, real estate, and automotives. For the first time in history in the country, a Sri Lankan tech startup was also part of the official delegation. Sri Lanka's Ambassador to Germany Karunasena Hettiarachchi also participated in the meetings.
A business forum was conducted in each of the three cities of Frankfurt, Hamburg and Berlin, during which Minister Samarawickrama as well as BOI Director General Duminda Ariyasinghe and EDB Chairperson Indira Malwatte addressed the audiences of German investors on the investment opportunities in Sri Lanka and proactive facilitation by the Government.