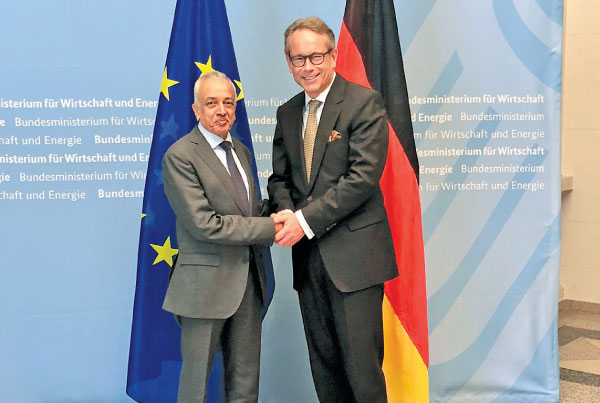 During the recent trade and investment promotion visit to Berlin, Minister of Development Strategies and International Trade Malik Samarawickrama met with the State Secretary (Vice Minister) of the Federal Ministry of Economic Affairs and Energy, Ulrich Nussbaum.The two Ministers discussed future areas of cooperation, in light of the Sri Lankan Government's keen interest to grow trade and investment linkages between the two countries.
During the meeting Minister Samarawickrama said, "Over the past few years our political and diplomatic ties have gone from strength to strength. It is now time for our business communities build new partnerships. We are very keen to attract German companies to Sri Lanka, to do higher-end activities, especially manufacturing that brings new technology and new practices to upgrade the economy."
Dr. Nussbaum inquired about the sectors in which Sri Lanka has interest in attracting German partnerships, to which Minister Samarawickrama explained about the National Export Strategy Sectors like high end food and beverage processing and electronics, as well as other sectors like rubber-based products, automotive components, and renewable energy.