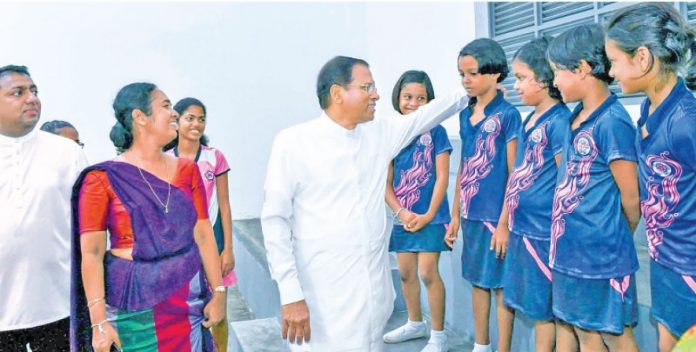 The government has been strengthening free education over the past three-and-a-half years, since the future of the country depends on the prosperity of children, President Maithripala Sirisena said.The President was speaking at the opening of an indoor stadium complex at Sirimavo Bandaranaike Vidyalaya, Colombo, yesterday.
Addressing the gathering, the President said that not only the future of the country, but also the future of people and of the world are linked with the future of children.As a state policy, the present government has increasingly strengthened free education during the past three-and-a-half years, while providing equal opportunities for children to receive free education, the President said.
"No one can put a limit on education. Education which doesn't have boundaries is the guiding light of the entire world," President Sirisena said.He said that investments in the fields of education and health will yield long-lasting results.
"Free education and free health facilities available in the country have created and produced iconic persons. All over the world, education has resulted in producing productive people. Sri Lanka is not an exception as the country's free education and free health service have been creating experts," he said.