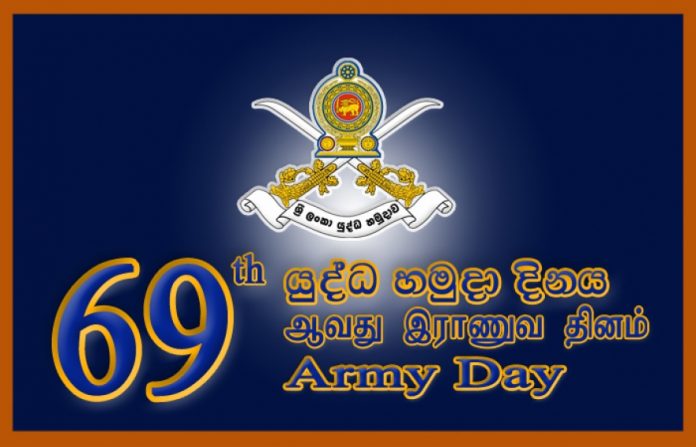 Sri Lanka Army, an army that has stunned the world by vanquishing one of the most ruthless terrorist outfits that plagued this country for more than three decades, turns 69 years on October 10, 2018.This year's commemoration of the 69th anniversary and the Army Day (Oct 10) as has been the practice begins with flag blessing ceremonies during a series of Buddhist, Catholic, Islamic and Hindu religious observances.
The precursor to the event commences on 28 September in Kandy where an offer of Buddha Pooja to the Sri Dalada Maligawa (Temple of the Tooth), alms to members of the Maha Sangha and invocation of blessings symbolically on all Army flags would take place with the participation of the Commander of the Army, Lieutenant General Mahesh Senanayake as the Chief Guest for the occasion.
The traditional flag blessing ceremony on October 1 at Anuradhapura Jaya Sri Maha Bodhi precincts, considered as one of the most colourful spectacles in the calendar of anniversary events, is scheduled to be attended by representative Officers and Other Rankers in the Army after the Commander of the Army pays obeisance to the Chief Incumbent at Jaya Sri Maha Bodhi.
On October 2, members of the Christian faith in the Army will gather at the All Saints' Church in Borella for a special Mass, organized by the Army Christian Fellowship to bless the Army.Islamic prayers to bless the Army meanwhile are scheduled to take place on October 3 morning at Jumma Mosque in Colombo 03, following arrangements made by the Army Muslim Association.
On Wednesday (October 4) evening, the Hindu religious observances, organized by the Army Hindu Association would get underway at Sri PonnambalamVaneshwarKovil at Colombo 13 where once again all Army flags would be blessed as in other instances.