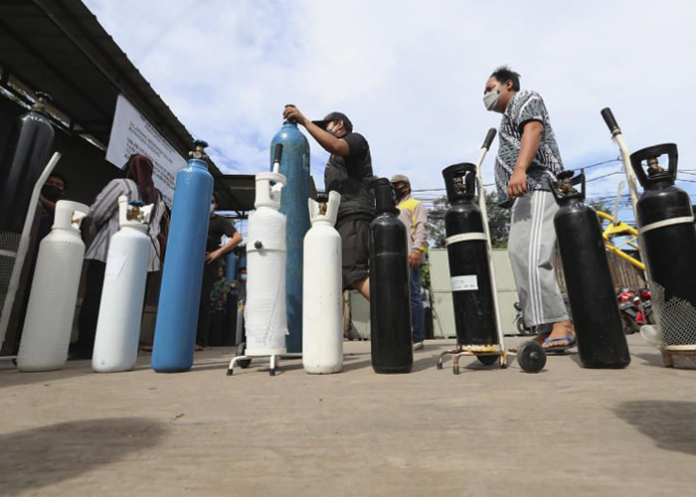 Between Saturday and early Sunday local time, 63 patients died at a hospital on one of the country's islands, Java, after their oxygen supplies had nearly been used up, CNN reported.
Though the hospital had tried to acquire more resources, oxygen supplies were used up faster than expected after the hospital saw a wave of COVID-19 patients that outpaced its capacity. The hospital was able to receive fresh supplies by early Sunday morning.A hospital spokesperson could not confirm to CNN if all of the patients who died were COVID-19 patients.
As a whole, the daily oxygen needs in Indonesia is nearly outpacing production. The AP reports that demand has reached 1,928 tons of oxygen per day, and government data says that available production capacity is 2,262 tons a day. Luhut Binsar Pandjaitan, Indonesia's minister in charge of the country's pandemic response, said it received a shipment on Friday from Singapore of 1,000 ventilators, oxygen cylinders and other supplies, The Associated Press reported. He said they also received a shipment from Australia of an additional 1,000 ventilators.
Pandjaitan added that the country planned to buy 36,000 tons of oxygen, and 10,000 concentrators from Singapore, according to the wire service. "I asked for 100% of oxygen to go to medical purposes first, meaning that all industrial allocations must be transferred to medical," said Pandjaitan, according to AP. "We are racing against time, we have to work fast."
It's a very different picture than that of two months ago, when Indonesia was supplying oxygen for India, where the delta variant was first identified. The need for oxygen comes after the country donated about 3,400 oxygen cylinders and concentrators to India at the height of the country's surge. However, plans to send another 2,000 oxygen concentrators to India in mid-June were cancelled as the number of cases surged in Indonesia, according to the AP.
Since the start of the pandemic, the World Health Organization (WHO) reports the country has seen 2.4 million confirmed cases of the coronavirus and over 64,000 confirmed deaths from the disease. The AP notes that those numbers are expected to be higher because of poor contact tracing and low testing.