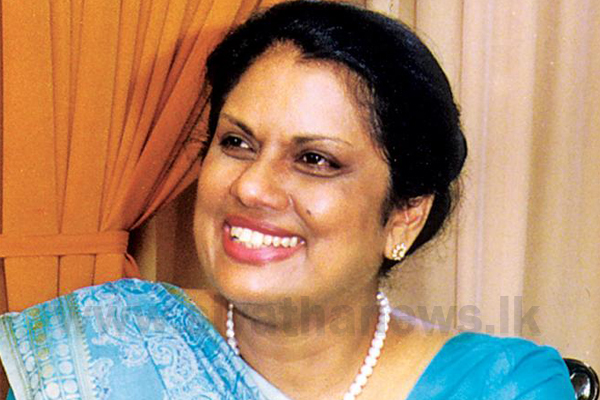 Former President Chandrika Bandaranaike Kumaratunga said that she is the chairperson of the Sri Lanka Freedom Party and not former President Maithripala Sirisena.
She made this comment after visiting the Bandaranaike statue in Galle Face on the occasion of the 122nd birth anniversary of late Prime Minister S.W.R.D. Bandaranaike.
Asked by a journalist if the path taken by the Sri Lanka Freedom Party (SLFP) founded by her late father, is on the correct path, Kumaratunga slammed that there is no path visible.
"I don't see the party taking any path, therefore I cannot comment if it's the correct path or not," she said. The journalists also questioned the former head of state on various injustices allegedly suffered by the SLFP.
"I have told them that we can go forward on our own strength without relying on others. They did not take heed. One year ago I predicted that the party would face this situation. There is a chairman of the party who is illegally holding on to that position, " Kumaratunga said.
Responding to a question asking if this was the reason that she chose to distance from the party, the former President dismissed the claim that she had stepped away.
"I have not stepped away from the party and I will remain with the party forever. I am the chairperson of the SLFP. I am the party counsellor and a member of the political bureau. But Sirisena has advised the party not to inform me of any meeting," she said.
"I have protected the party on every occasion, four occasions when it was in dire straights. The present members of the party will carry on. There is no need for me to join the party as I'm already in the party. The party belongs to all of us, it's members. Sirisena has sold the party to the Pohottuwa, it is him who is missing from the party," Kumaratunga said.
Former President Kumaratunga paid her respects at Galle Face, one hour ahead of the official commemoration ceremony organised by the SLFP.
The former president said that she was not invited for the official commemorative programme organised by the party.