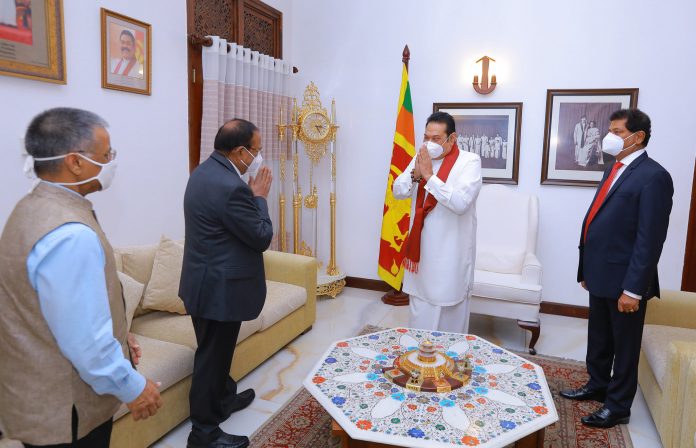 Indian National Security Adviser Ajith Doval called on Prime Minister Mahinda Rajapaksa on Friday (27) afternoon.
The Indian National Security Adviser stated strategies to boost the economy and move towards development with other countries in the region should be identified.
He called on Prime Minister Rajapaksa to take the lead in building a dialogue between countries in the region, as well as in creating a dialogue to find solutions to a recession and boost the economy.
He stressed the Government of India will extend its full support towards these efforts.
Recalling that housing schemes have been implemented in the North, East, and Central Hills with the assistance of the Government of India, the Prime Minister requested assistance to initiate such housing projects centered in the South.
Ajith Doval said the Indian government will provide support for this effort as well.
At the meeting, it was agreed to launch a state-of-the-art drinking water supply project in Sri Lanka, a project which was first initiated in India as per the vision of Indian Prime Minister Narendra Modi.
Doval is in Colombo to attend the 4th National Security Adviser (NSA) Level Trilateral Meeting on Maritime Security Cooperation between India, the Maldives, and Sri Lanka from Nov. 27 to 28 in Colombo.
India's National Security Adviser Ajit Doval and Maldivian Defence Minister Mariya Didi are expected to lead senior level delegations to attend the trilateral meeting, while delegations from Bangladesh, Mauritius, and Seychelles are expected to participate as observers.