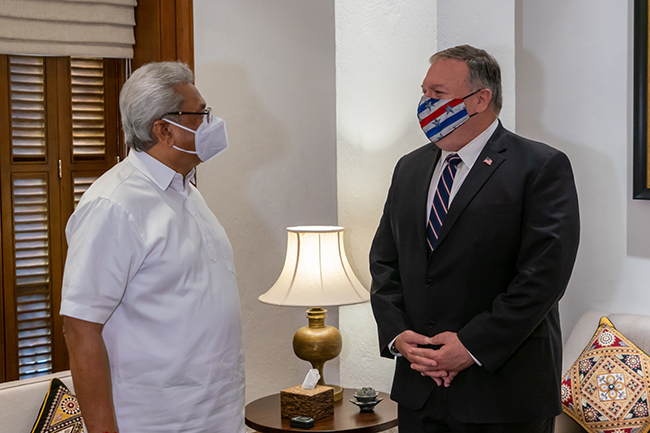 President Gotabaya Rajapaksa has tweeted that Sri Lanka will not be embroiled in the conflicts between power blocs and insisted on maintaining a neutral stance in the country's foreign policy.
The remarks were made following the bilateral discussions held with the Secretary of State of the United States, Michael R. Pompeo this morning.
#SriLanka will always maintain a neutral stand in foreign policy and will not get entangled in struggles between power blocs.@SecPompeo #USwithSL https://t.co/Y7HkOLj1Xq

— Gotabaya Rajapaksa (@GotabayaR) October 28, 2020
Talks between the two leaders have focused on the post-pandemic economic recovery and development and the importance of US-Sri Lanka partnership to bolster sustainable and transparent trade and investment that benefits the people of Sri Lanka.
President Rajapaksa appreciated the State Secretary's stance on the need to strengthen the bilateral relationship and support for defence cooperation.
The United States and China are currently embroiled in a power struggle over mutual economic, political and security interests. The north American nation accuses China of debt-trap diplomacy and benefitting more from the development, infrastructure projects than its presumed recipients.
State Secretary Pompeo, during today's joint press conference, reiterated the matter: "We see, from bad deals, violations of sovereignty, and lawlessness on the land and sea that the China Congress Party, as a predator. And the US comes in a different way. We come as a friend and as a partner."
However, Foreign Minister Dinesh Gunawardena stressed that Sri Lanka, as a sovereign, free independent nation, will maintain a neutral, non-aligned and friendly foreign policy.
"We see the importance of maintaining the freedom of navigation in our seas and air space and also protecting the sea lines of communication and undersea cables. We believe, all countries should adhere to and respect international law including the UN convention on the law of the sea," Minister Gunawardena told his US counterpart.
The embassy of China in Colombo, meanwhile hit back at the US State Secretary's comments, tweeting: "Sorry Mr. Secretary @SecPompeo, we're busy promoting #China-#SriLanka friendship and cooperation, not interested in your #AlienVsPredator game invitation. The US can play two roles at the same time as always."
Sorry Mr. Secretary @SecPompeo , we're busy promoting #China–#SriLanka friendship and cooperation, not interested in your #AlienVsPredator game invitation. The US can play two roles at the same time as always. pic.twitter.com/9Od8xsUphb

— Chinese Embassy in Sri Lanka (@ChinaEmbSL) October 28, 2020
Productive talk with Sri Lankan President @GotabayaR about post-pandemic economic recovery and development and the importance of our partnership to bolster sustainable and transparent trade and investment that benefits the people of Sri Lanka. pic.twitter.com/wlm4uBaxBo

— Secretary Pompeo (@SecPompeo) October 28, 2020
Met with Foreign Minister @DCRGunawardena to reaffirm the strength of the U.S.-Sri Lanka partnership. Our cooperation on health and humanitarian issues is strong and the approaches we discussed to post-pandemic recovery will ensure sustainable and inclusive long-term development. pic.twitter.com/3SCoHogvJi

— Secretary Pompeo (@SecPompeo) October 28, 2020