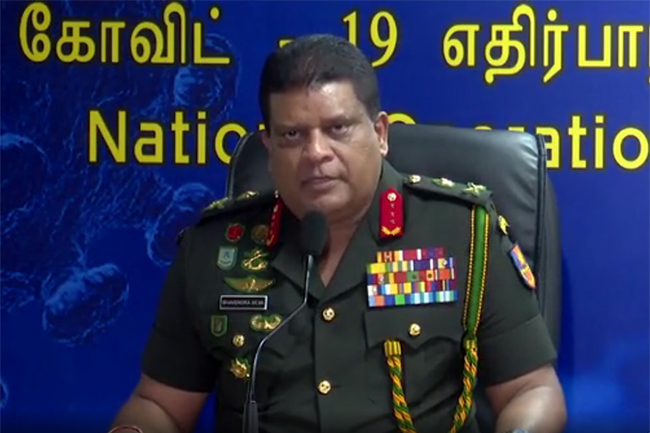 Army Commander Lt. Gen. Shavendra Silva yesterday asserted that the Government has succeeded in controlling the COVID-19 "Second Wave".
Speaking to the media, he said that the second wave which was triggered by the Minuwangoda cluster, in Gampaha in the Western Province that grew up to 3,106 has been contained while the infections from the Peliyagoda Fish Market are being successfully controlled.
He added that the COVID-19 second wave has been successfully contained under the guidance of President Gotabaya Rajapaksa along with the support of Armed Forces and Police, the health sector, other relevant stakeholders and the COVID-19 Task Force with a minimum impact on the economy and the people. He emphasized that the effort by no means would fail.
He said further that the COVID-19 spread by the Minuwangoda cluster has been completely contained and cases are reported from the quarantine centres only. He added however, infections from the Peliyagoda Fish Market had spread rapidly because this marketplace distributes stocks of fish all around the country.
The Army Commander added however this impact has been limited to the Western Province and 10,100 PCR tests have been done in highly risk areas within the Colombo Municipality areas and the 300 positive tests detected proves that the containment efforts are a success and community spread can be controlled. He added that those who have retired and are presently abroad also support combating the virus.