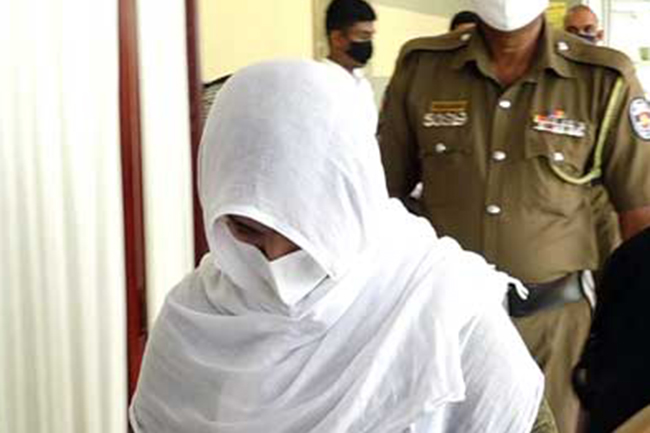 Wife of Zahran Hashim, the ringleader of Easter Sunday terror attacks, and four others have been remanded until the 04th of November.
The order was delivered by Colombo Fort Magistrate Priyantha Liyanage when the Criminal Investigation Department (CID) produced the suspects before court.
They were held in the custody of CID for 18 months under detention orders, following the explosion at a safehouse in Sainthamaruthu, Kalmunai last year.
National Thowheed Jamaath (NTJ) leader's wife meanwhile arrived at the Presidential Commission of Inquiry (PCoI) probing the Easter Sunday terror attacks yesterday. However, the Commission did not record a statement from her.
State's Additional Solicitor General Sarath Jayamanne had explained in length whether she could be called to give evidence before the Commission as legal proceedings related to Easter attacks are still ongoing.
The explanation was not opened to media personnel, however, the decision on recording a testimony from Zahran's wife is to be announced today.
Five days into the coordinated bomb blasts on the 21st of April 2019, extremist militants had opened fire and set off explosives at Sainthamaruthu in Kalmunai as the security forces closed in to raid their safe house.
A total of 15 bodies including six men, three women and six children were recovered from the site.
The father and brother of the Zahran Hashim were among the dead while his wife Abdul Cader Fatima Saadiah and then four-year-old daughter sustained minor injuries in the explosion.
She was later subjected to extensive interrogation and she had also recorded a confidential statement before the Colombo Fort Magistrate.
Her brother was placed under arrest by the Colombo Crimes Division (CCD) for allegedly receiving weapon training at Nuwara Eliya camp along with Zahran Hashim.