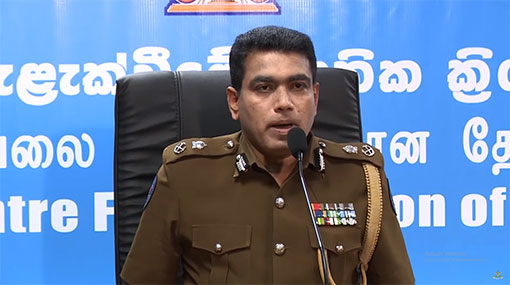 Based on the directives issued by Attorney General Dappula de Livera, two Police teams have been deployed to conduct an investigation on the allegations against Riyaj Bathiudeen in connection with the Easter Sunday attacks, Police Spokesman DIG Ajith Rohana said.
Addressing a media briefing at the Police Headquarters yesterday, he said that former Minister Rishad Bathiudeen's brother Riyaj Bathiudeen was arrested on 14th April 2020 in Puttalam by the CID for allegedly having direct links to the terrorists involved in the Easter Sunday attacks. However, the CID released him on September 29 he was released after being remanded for five and a half months, citing lack of evidence.
"The Police came under fire over this issue, but the President and the Defence Secretary focussed special attention on this issue and accordingly, an internal investigation regarding this matter has been initiated."
Thereafter, he noted that on the 12th, the Attorney General had issued directives to the Acting IGP to commence investigations under seven counts. Accordingly, investigations began on the instructions of the Secretary Defence Maj. Gen. (Rtd) Kamal Gunaratne and the Acting IGP C.D. Wickramaratne.
He said that the investigations would be conducted by two separate teams comprising around 60 police officers. "One team will be looking into four counts pointed out by the Attorney General while the other team probes the remaining three counts.
The two teams would be allocated 30 police officers each," DIG Rohana explained.
The investigations will be overseen by the DIG of the Criminal Investigation Department, two Senior Superintendents of Police (SSPs) and an Assistant Superintendent of Police (ASP). The AG in his letter has identified seven counts and the investigations would be conducted based on these counts based on the provisions under the Prevention of Money Laundering Act and Convention on the Suppression of Terrorist Financing Act.
He said that a discussion in this regard was held on Tuesday with the AG and the special instructions were issued during this meeting.
The AG had also issued directives to the police on Tuesday regarding deployment of busses for the Presidential election on November 16,2019. Investigations had been conducted on a certain payment being made for transporting voters in these buses. This money had been paid out of expenditure allocations made to the Resettlement Ministry.