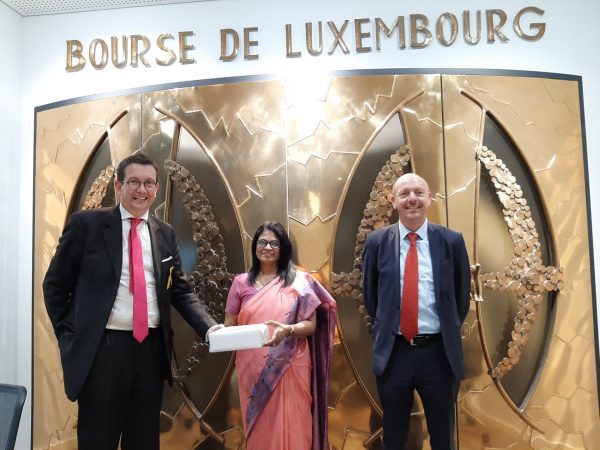 Sri Lanka Ambassador to Luxembourg Grace Asirwatham during her visit to Luxembourg met with Secretary General of Luxembourg Stock Exchange (LuxSE) Maurice Bauer.
Head of Relationship Management – International Primary Markets of the Luxembourg Stock Exchange Carlo Oly and Minister (Commercial) Shirani Ariyarathne were also present at the meeting.
Ambassador Asirwatham and Secretary General Bauer were engaged in a discussion to explore the possibilities of developing cooperation between Sri Lanka and the Luxembourg Stock Exchange in the field of Green Bond investment. The Ambassador explained that Sri Lanka would like to develop Green projects in transport, eco-industrial zones to recycle industrial waste, Green and smart cities and renewable wind and solar energy under the Green Bond investment with the support of both Luxembourg Green Exchange (LGX) and the European Investment Bank (EIB).
The LuxSE Secretary General appreciated Sri Lanka's efforts to develop more Green projects and expressed keenness to continue to engage with Sri Lanka to develop an effective financial cooperation to reach the Green targets.