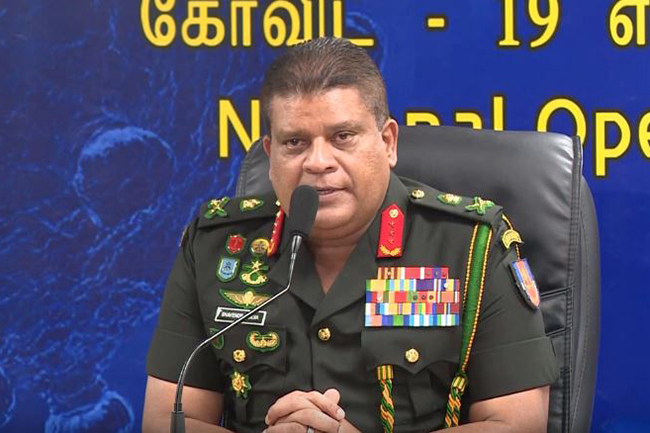 Commander of the Army, Lieutenant General Shavendra Silva on Monday (24) said Zero COVID-19 positive cases were reported from the society in the past 50 days after 30 April, adding it does not mean the epidemic is over from the country.
"The new cases we come across are from those coming from overseas and we cannot reject them since they are Sri Lankans," said the Army Commander during the Media interaction at Digampathana 53 Division 'Silver Jubilee' celebration.
Though some complain expatriates are not repatriated to the country, every day 300-400 expatriates are coming into the country and they are referred for quarantining, said the Army Commander.
Speaking on the COVID-19 figures in the country, the Army Commander said the latest detections are all those who had contracted the virus when they were abroad and not in Sri Lanka.
Presently 7653 individuals are in quarantine at centres and there are 54 Quarantine Centres operated by the three armed forces.
"We have to take them all to the country in a very safe manner although even flight crews too undergo risks. We have to take them carefully any way with utmost care and precision," added Lieutenant General Shavendra Silva.
The Army Commander said previously expatriates were sent only to hotels with more than 100 plus rooms for practical reasons and now expatriates are also sent to small scale hotels as well.
As a result hoteliers are also benefited, said the Army Commander.
"All Sri Lankans have to continue following health guidelines further and protect themselves from the fast-spreading virus, although there is no heavy threat as such," the Commander remarked.