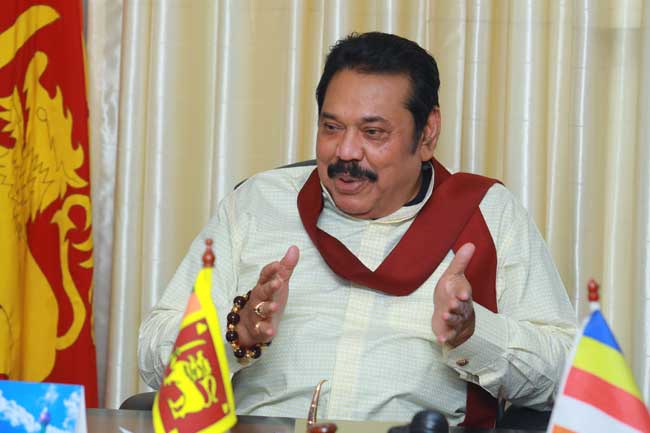 Prime Minister Mahinda Rajapaksa has renewed calls for international monetary organisations to provide debt relief for developing countries, saying that a debt moratorium of 2 years is sufficient to get the country back on track.
These remarks came as he addressed the 33rd annual conference of the Organisation of Professional Associations of Sri Lanka on Saturday (27).
What is most vital now is to prevent the economy from weakening, maintaining stability and ensuring that the country return to normalcy as fast as possible, the PM said further.
"Due to the impact of COVID-19, many important sectors of our economy have faced serious risks. The adverse impact of this setback has had a harmful effect on the overall gross domestic production of Sri Lanka. These affected segments of the economy should be supported in a revival plan to ensure an accelerated growth, immediately after this crisis."
PM Rajapaksa noted that the country must be prepared to get to work to attract local and foreign investments in sectors such as infrastructure, information technology and transportation.
"We must also be ready to pursue opportunities to provide outsourced and online services to more advanced nations and to establish new ventures that use Sri Lanka's mineral resources effectively."
Focusing on the education and health sectors will also lead to favourable results, the PM added. "We must concentrate on supporting our small and medium scale enterprises."
He highlighted that, in addition, the increased needs of the vulnerable people, particularly the children, should be supported. "In order to allocate necessary funds for this vital need, at this point of time, the global community will need to come forward to assist all developing nations."
If the IMF and the World Bank can provide debt standstill for at least 2 years, developing nations will be able to provide relief and much needed benefits for children and other vulnerable of their populations, the Premier pointed out.
"Provision of such relief will lead to the stimulation of respective economies and a faster recovery as well."
"We believe the global community should seriously consider such a move at this point in time. We now have to get down to work to implement a focused and practical plan of action for the country to deal with the significant challenge before it from an economic perspective as well," PM Rajapaksa remarked.