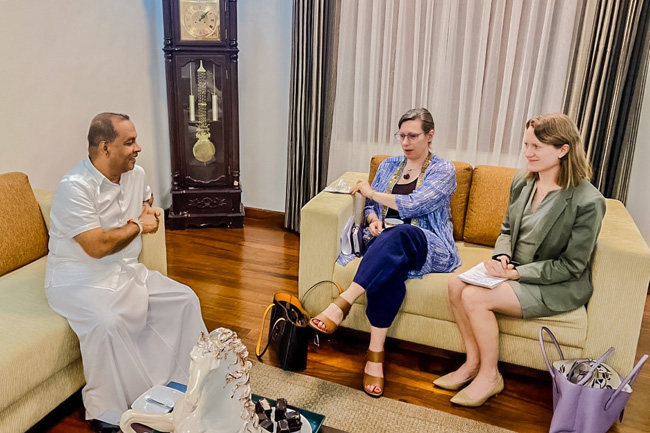 Ambassador of the United States to Sri Lanka Alaina B. Teplitz says the US government is always supportive of Sri Lanka's development activities and is ready to provide technical assistance to Sri Lanka's power and energy sector including first LNG power project in the island.
She further said the US government is ready to provide its fullest assistance to road traffic problems in urban areas in Sri Lanka.
The US Ambassador made this statement when she met with Minister of Power and Energy and Transport Service Management Mahinda Amaraweera on Thursday (25), at his official residence.
Minister Amaraweera has said the government has implemented a program to generate electricity by exceeding the total electricity requirement of Sri Lanka by 2023. Initial steps have been taken to commence a few power and energy development projects, including the first LNG power plant in Sri Lanka. The Norochcholai coal power plant is to be built in an environmentally friendly manner and the Cabinet has given its approval for this project.
The Uma Oya Hydro Power Project, Wind Power Project in Mannar and  Broadland Hydro Power Project and Jaffna Solar Power Project will be kicked off before the end of this year, the Minister has said adding that he expects to reduce the electricity bills of the people with the development of new coal power plants and Sri Lanka's first LNG power project which is scheduled to be completed by 2023.
The US Ambassador has said the USA government is also ready to provide necessary technical support to introduce new technology to reduce the traffic congestion on the island.
Further, she reiterated that the United States will continue to support Sri Lanka's development efforts.