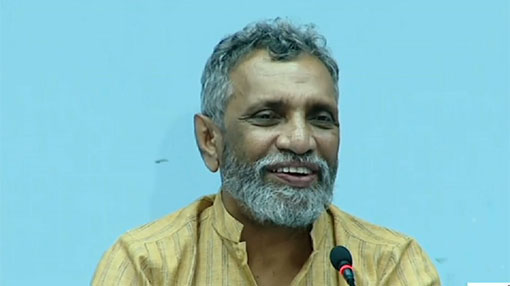 National Election Commissioner, Mahinda Deshapriya on Sunday (June 21) requested the general public's assistance in ensuring that election regulations are not violated.
"We will hold the general election…, please come cast your vote without fear, help us ensure that election laws are not violated," Mahinda Deshapriya, the Chairman of the National Election Commission told reporters on Sunday (June 21).
Deshapriya pointed out that people are not aware of the present election laws while addressing media following a meeting to instruct public sector officials in the Kandy district, on the upcoming general election.
While emphasizing that distribution of goods including food & dry rations, misuse of state properties, display of unauthorized posters & banners are all in violation of election laws, the Election Commissioner added, "please inform the election office or nearby police station, regarding any form of election violations.
Further, a final decision on international observers visiting the country, to monitor the general election will be reached in another two weeks, according to NEC Chairman, Mahinda Deshapriya.
Meanwhile, the gazette notification with guidelines on the safe conduct of the general election, ensuring health safety and preventing further spread of COVID-19, will be issued at midnight today (June 22), according to Dr. Anil Jasinghe, the Director-General of Health Services.