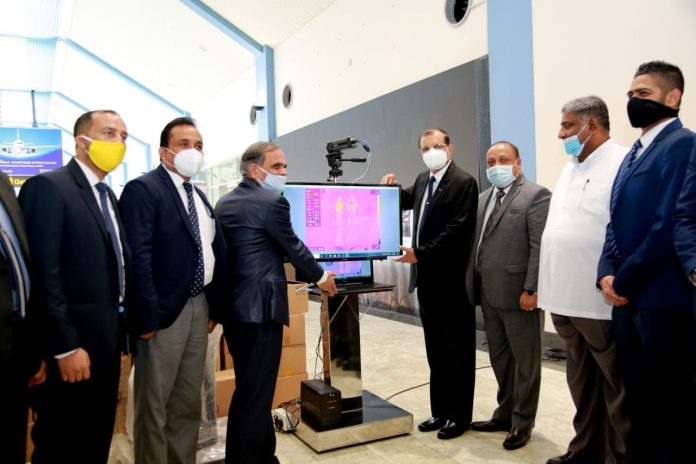 Donation of state-of-the-art health screening equipment to AASL, by IOM for escalating GoSL's response for the Covid-19 pandemic
A batch of equipment and other supplies which include state of the art elevated skin temperature measurement camera solution and few other types of equipment worth of LKR 45 million donated by International Organization for Migration to Airport and Aviation Services (Sri Lanka) Limited on 16th June 2020 at the Bandaranaike International Airport.
This donation comprised of several Thermal Cameras for the measurement of elevated skin temperature, which are widely used by major airports around the world, new health inspection and interview counters, full-duplex counter communication system for immigration counters, handheld medical infrared thermometers, protective KN96 masks, disposable 3 ply non-woven surgical masks, disposable PPE overalls, examination gloves, hand-rub sanitizers, disposable face shields and reusable surgical boots. The project is funded by the Government of Japan and the Government of Australia, which is in line with the Strategic Preparedness and Response Plans (SPRP) of the Government of Sri Lanka.
The equipment were handed over by Mr. Sarat Dash, Chief of Mission and Mr. Shantha Kulasekara Head of Migration & Head of Governance of IOM Sri Lanka to Major General (Rtd.) G. A. Chandrasiri Chairman, AASL at the presence of Hon Prasanna Ranatunga, Minister of Industrial Exports and Investment Promotion, Tourism and Aviation, Mr. Upul Darmadhasa Chairman, CAASL and other distinguished officials from Ministry of Tourism and Aviation, Ministry of Health, CAASL & AASL.