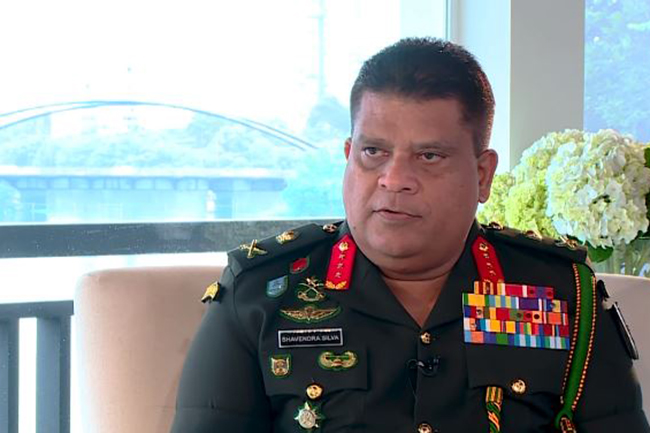 The government today declared the Colombo, Gampaha, and Kalutara districts as high-risk zones for the spread of COVID 19.
Meanwhile, residents of the Thavady area in Jaffna have been temporarily restricted from leaving their homes. The curfew imposed in the high-risk zones was re-imposed from 2 pm today (March 24) until further notice.
Army Commander, Lt. Gen Shavendra Silva commenting on the situation in Jaffna said:
"We instructed those who attended the church ceremony in the Jaffna District to undergo self quarantine. However, there were 17 people who had close contact with the Pastor. They have been sent to a quarantine centre in Jaffna."
Meanwhile, residents of Thavady in Jaffna have been restricted from leaving their homes after a person was tested positive for the virus in the area. Our correspondent stated that roads in the area have been closed off to prevent people from entering or leaving the area.
The Thavady area is home to around 300 families.
The Jaffna District Secretary, K. Maheshan said:
"212 people have been quarantined in their homes owing to the incident in Ariyalai. 17 of them who had contact with the person who tested positive for the virus, were sent to the quarantine centre in Palaly. We have issued instructions for the residents of the Thavady area to undergo self quarantine. This situation could have been prevented if the Pastor who arrived from overseas had abided by the regulations of the government. The affected patient's wife is a Samurdhi officer. We have been informed that she had distributed Samurdhi allowances among 214 beneficiaries. Accordingly, they will be quarantined."
Meanwhile, the Governor of the Northern Province, Ms P.S.M. Charles also spoke of the matter and said:
"The province is on a lockdown. Connection to other provinces have been suspended. We have given pharmacies the permission to deliver medicines from door to door if required. There are highly populated areas in the Northern province. At the same time, there are areas which lack health facilities. Around 1200 people who arrived from overseas have been quarantined in the Northern Province. 240 people have also been quarantined over the recent incident. Attempting to overcome the Coronavirus through religious rituals is contrary to the viewpoint of the World Health Organization. The newspaper which gave publicity to this event should also understand that. It is an unlawful act."
Meanwhile, the Pastor who arrived in the country on the 15th of March for the church service, and later tested positive for COVID – 19 is receiving treatment in Switzerland.
A person from the Thavady area in Jaffna who had contracted the disease after maintaining contact with the Pastor is receiving treatment at the IDH Hospital.