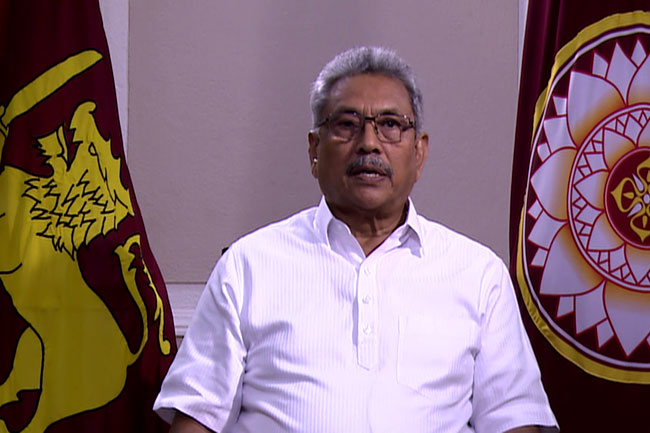 President Gotabaya Rajapaksa addressing the nation on Tuesday said it is important that a stable government is established and a budget is passed to fulfil the pledges for a prosperous future spelt in his policy statement.
President Rajapaksa asked the people to rally around him to form a strong government.
"In this moment, our responsibility is to govern the country properly. We cannot allow irregularities from the government for any reason. If we do not work with foresight, the normal social life will be completely disabled," President Rajapaksa said after explaining the current situation of COVID-19 in the country.
"Leaders must act with self-confidence. They should not create a fear psychosis among people."
President Rajapaksa also said that the country should minimize all possibilities of the virus from entering and spreading throughout the country.
"We have already identified what needs to be done and have put these into action. We have empowered the Task Force accordingly," he said.
"We have faced and won over challenges before. We are ready to face the challenges. What we need is unity. Therefore, I ask the people to act with responsibility."
The President also announced several relief measures including measures to stabilize rice supply, to ensure that people's lives are not disturbed and that the necessary state services, such as bank finances and transport be continued with the least possible number of people to ease the people's day to day lives, and their consumption.
He also ordered a maximum retail price of dhal per kilogram to be no more than Rs. 65.00 and to keep the price of a canned fish at Rs. 100.00.
The President also said that his administration is in the process of planning more relief to the public.
He said that he ordered banks and finance companies to extend a moratorium of six months' recovery period for the loan facilities taken by businesses, and banks to give capital at four percent interest.