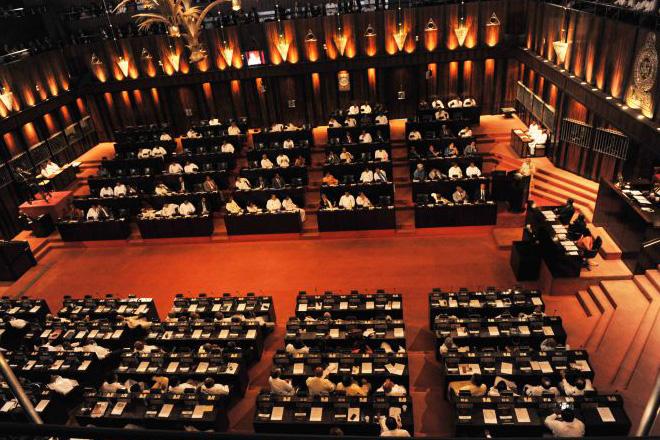 Parliamentarians spoke about the MCC compact at the parliamentary sessions yesterday (Jan 21). Leader of the Janatha Vimukthi Peramuna Anura Kumara Dissanayake noted that the media has reported that after the presidential elections the current government is considering signing the Millennium Challenge Corporation agreement and that they have appointed a special committee to further study the deal.
He questioned; "When was this committee appointed to look into this agreement? Who are the named members of this committee? Who is taking part in those committee meetings? Is there a certain time frame to present the report? We would also like to know will that report be presented to the parliament?"
Responding to this the Leader of the House Minister Dinesh Gunawardena noted that on December 18 last year the committee was appointed during the cabinet meeting. He noted that the members of the committee were Professor Lalithasiri Gunaruwan of the Colombo University, D. S. Jayaweera, Attorney-at-law Nihal Jayawardhana, Nalaka Jayaweera. He added that to present the report the committee has been given four months and once the report is finalized they will present it to the house.
UNP MP Athuraliye Rathana Thero said the cabinet of the previous government agreed to this deal, however, now the opposition leader is against it. He said they have to thank them for that as this is a major superpower that they are talking about. The Thero said it's important that they leave this deal in a smart way.
The Opposition Leader Sajith Premadasa noted that when the cabinet was discussing this MCC deal he was strictly against it. He added that he was against replacing the terrorism prevention act with the anti-terrorism act. He stressed that his opinion about this was not adopted recently.
Meanwhile, UNP MP S.M. Marikkar noted that if the MCC is not needed then there is no point in appointing a committee. He added that if 75% of the agreement is good then they shouldn't spend too much time on it. He said that about 6.9 million Sri Lankans are against the agreement.
Adding to this UNP MP Sujeewa Senasinghe noted that the President and the Prime Minister are procrastinating as they have not spoken publicly about this matter. He said since Gotabaya Rajapaksa has good ties with the US he can study this and end it.