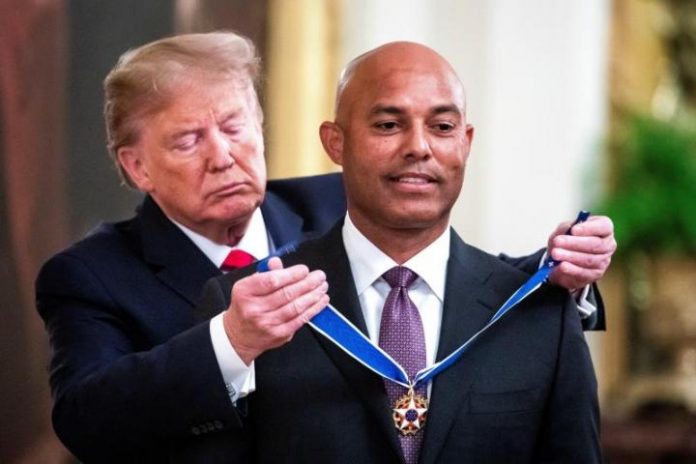 President Trump awarded the Presidential Medal of Freedom to baseball pitcher Mariano Rivera on Monday (September 16).
A native of Panama, Rivera entered the East room ceremony alongside President Trump to the throbbing sound of Metallica's "Enter the Sandman". The song was Rivera's entrance music which usually preceded Rivera putting batters "to sleep" or striking them out in baseball jargon.
During his 19 seasons in Major League Baseball, Rivera established himself as the greatest relief pitcher of all time. Signed by the New York Yankees in 1990, Mr. Rivera would become a 13-time All-Star and 5-time World Series champion. He was the first player in the history of the sport to be elected unanimously into the National Baseball Hall of Fame. Off the field, through the Mariano Rivera Foundation, he has provided education and inspiration to children from low socioeconomic backgrounds, empowering them to achieve better futures.
Rivera, an active supporter of the president, follows sports greats Bob Cousey and Jerry West of the NBA, Tiger Woods and Babe Ruth among others as well as Elvis Presley and Supreme Court Justice Antonin Scalia in receiving the honor.