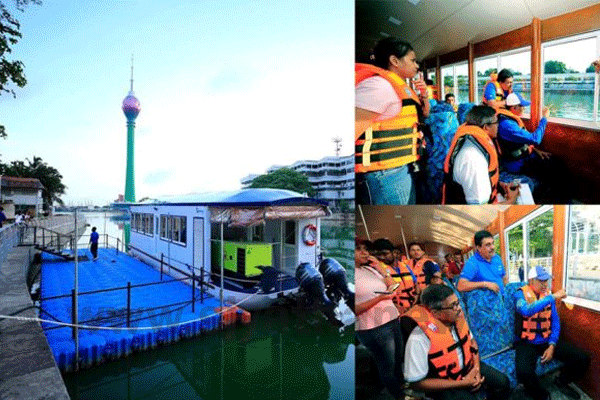 Luxury passenger ferry service from Colombo Fort to Union Place through the Beira Lake would be launched today under the patronage of Prime Minister Ranil Wickremesinghe, Ministry of Megapolis and Western Development said.
The ferry service would commence from the Beira Lake near the Lake House and ends in the Vauxhall Street, Ibbanwala Junction.
With the launch of this service, it is possible to travel from Colombo Fort to Union Place in less than 10 minutes though it takes more time than that of road transportation in peak hours. The boat service has been identified as an ideal solution to ease traffic congestion.
This pilot project will be launched in line with the proposed Inland Water Transport service.
Inland water transport system has been identified as a possible option to mitigate the traffic congestion in the Colombo region.
The Sri Lanka navy is to provide necessary ferries to operate the service and rescue crew in the house.
The project is implemented under the guidance of Megapolis and Western Development Minister Patali Champika Ranawaka and the supervision of the Sri Lanka Land Development Corporation (SLLDC).
Speaking to Media, a member of IWT Project Development Team Ranoshi Siripala (Ecologist) said there will be two ferries operating from Fort –Union Place, which will accommodate 50 passengers each. The opportunity will be provided for passengers to travel with zero-fare in the first month.
The ferries are available from 7.00 a.m. to 9.00 p.m. in the entire week.
She said they were also hoping to introduce recreational opportunities while the passengers enjoy their journey.
"It should be noted that the water quality of Beire Lake is also getting better due to the continuous efforts that have been taken by SLLDC," she added.
The final intention of these projects is to make Beire Lake as the finest tourist destination in the Colombo area.
Due to heavy traffic burdens on main road corridors within the Colombo Metropolitan Region, it has proposed to identify the potential uses of waterways which can be used as an inland water transport system.
The following three inland water transport lines have been identified by the Megapolis Transport Committee as potential routes,
1. Wellawatta –Battaramulla Line (IW1) approximately ten kilometers
2. Fort –Union Place (along Beire Lake) (IW2) two kilometers
3. Mattakkuliya –Hanwella (along Kelani River) (IW3)
When considering IW1 and IW3, the cost that had been estimated for ferries, was considerably higher than the IW2 in terms of their distance. Thus, Fort to Union Place via Beira Lake service would be implemented as a pilot project for two years after which the implementation of other projects under a Public-Private Partnership (PPP) model will be considered.