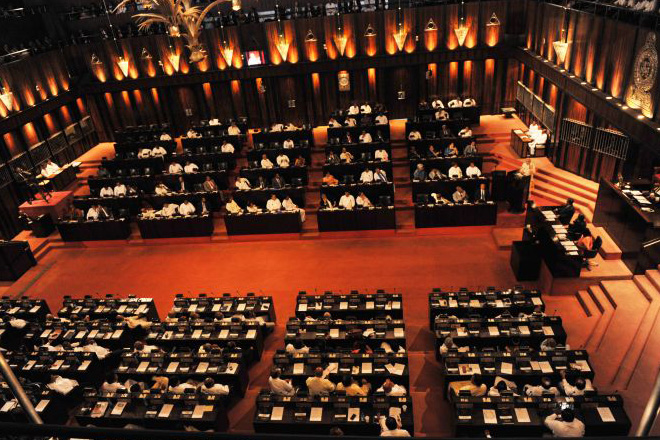 A debate was taken up in Parliament today(August 07) with regard to the salaries of MPs.
The matter was taken up as it was revealed that the Chief Minister of the Uva Province was employing 7 paid advisors. J.C. Alawathuwala, State Minister of Internal & Home Affairs & Provincial Councils and Local Government noted that a minister is only entitled to employ 2 paid advisors, it was revealed through the Auditor General's investigations that the Chief Minister had employed 7 paid advisors, disregarding the Governor's orders.
UNP MP, Chaminda Wijesiri shared that both the governor and the chief minister were appointed by the president and therefore the president is responsible to look into the matter. He went on to note that a huge sum of money is being wasted at the Provincial Councils.
UPFA MP, Wimalaweera Dissanayake noted that no MP in the house receives Rs 400,000 per month and all they get is Rs 300,000. He questioned what happens to the remaining Rs 100,000. He added that it was a matter that needed to be looked into immediately.
UNP MP, Thushara Indunil noted that the basic salary was  Rs 54,000 and they spend Rs 5,000 daily on fuel. He added that what they receive is not enough to last two weeks.
UPFA MP Dayasiri Jayasekara assured MP Rohini Kumari that no president's party MPs get extra Rs 200,000 and a cabinet paper was approved yesterday(August 06) to grant Rs 200,000 for monitoring MPs. He noted that the issue was regarding that.
Lakshman Kiriella, Leader of the House noted that he would direct the matter to the president.
A Member of Parliament receives a bonus of Rs. 2,500 for attending Parliamentary sessions.
The total cost incurred on MPs, over the 8 days Parliament convenes per month, is Rs. 4,480,000.
While a Member of Parliament receives a monthly salary of Rs. 54,285, he/she receives a further Rs. 10,000 to maintain his staff.
A member of Parliament also receives an allowance between Rs. 20,000 and 50,000 for fuel based on the district he represents. Further, he/she receives a mobile phone allowance of Rs. 50,000 per month.
They are also entitled to a further Rs. 200,000 allowance in order to maintain an office.
A cabinet minister and a state minister receive a basic salary of Rs. 65,000 per month apart from various bonuses.
A deputy minister obtains a basic salary of Rs. 63,500.
Cabinet, State and Deputy ministers receive even larger bonuses for fuel, staff, and mobile phone bills.
A monthly cost of Rs. 3.55 million is incurred in order to pay the basic salary of the 47 cabinet ministers.
A monthly cost of Rs. 1.3 million is spent in order to pay the basic salary of State Ministers, disregarding other bonuses.
An excess of Rs. 1.5 million is incurred monthly to satisfy the basic salary needs of Deputy Ministers.
132 members of Parliament are paid salaries through Parliament, apart from the 92 cabinet, state and deputy ministers and the Speaker.
For those 132 MPs, a total cost over Rs. 7 million is incurred apart from other bonuses, per month.