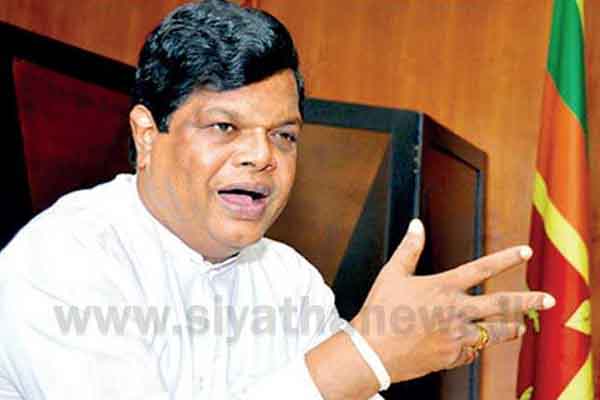 The Opposition today said the proposed amendments to the Monetary Law Act (MLA) were detrimental to the economy and that it would go to the Supreme Court if and when the draft bill was presented to parliament.
Addressing a news briefing, Opposition MP Dr. Bandula Gunawardana said the Finance Ministry and the Central Bank of Sri Lanka (CBSL) would go their separate ways if the MLA was amended.
He said the Finance Minister had submitted a cabinet paper on March 8 to amend MLA No. 58 of 1949, with the objective of strengthening the independence of the CBSL and to facilitate the adoption of Flexible Inflation Targeting (FIT) as the monetary policy framework.
"However, the President on June 3 suggested that the proposed MLA should be reviewed by a committee of economists before it is submitted to the Legal Draughtsman and that it must go through a broader stakeholder dialogue and consultation process. Therefore, the cabinet on June 18 decided not to go ahead with MLA amendments and to refer the proposed amendments to the Committee on Public Finance in parliament. However, the cabinet is now going forward with the MLA amendments," Dr. Gunawardana said.
He said it was only recently that the CBSL officials told the Parliamentary Select Committee (PSC) on the Easter Sunday attacks, that the recent amendments to the Foreign Exchange Act (FEA) restricted action to scrutinise receiving of foreign funds.
The CB officials said it was not possible to carry out an investigation on money transfers of the Batticaloa campus under the amended FEA as it did not even define an offence.
Dr. Gunawardane said the government had made a grave mistake by amending the FEA in an arbitrary manner and said if it amended the MLA the same way, it could further jeopardise Sri Lanka's economy.
"Due to the FEA amendments, Sri Lanka has been sidelined internationally as a country which can't take action on money laundering and foreign funding for terrorism. What if the government changed the MLA in the same manner? The entire money printing process will come to a standstill. The government should not amend bills to fulfil private agendas. We will raise our voices against this both inside and outside parliament. We will also go to the SC if the draft is presented to parliament without considering the President's suggestions," Dr. Gunawardana said.