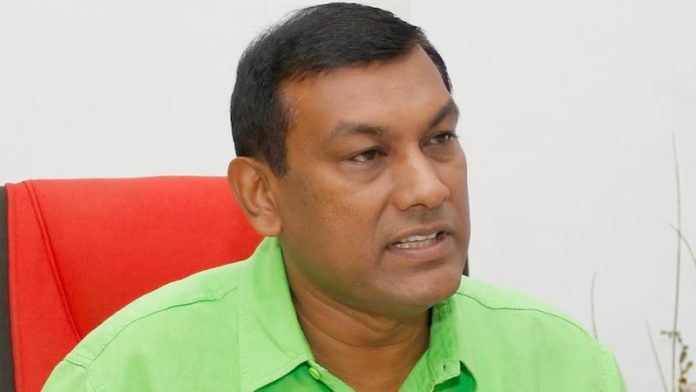 Mayor of the Matale Municipal Council, Daljith Aluwihare shared his thoughts on the UNP and upcoming elections.
Daljith Aluwihare noted that if the UNP does not present the ideal presidential candidate, the UNP will be done for.
He added that he is not to criticize openly and they would not stand a dictatorship within the party.
He said that if the UNP puts forward the wrong leader this time, the UNP will suffer a major defeat and they will never be able to rise again. There are many good and untainted leaders within the UNP.
We cannot maintain a dictatorship. The new faces must be given an opportunity to come forward. After 1994, the United National Party could not elect a president on its own. I wish to pose that question to Ranil Wickremesinghe.
I am not afraid and if I am asked to leave, I would do so. I love the party. What did the Government of Good Governance do? The media claims all resources in the country are being sold off. We are aware of somethings. Investigations are underway on some matters. All are aware there are flaws with the President, the Prime Minister and the Government. If they cannot rectify these flaws, no matter what political party, be it the Rajapaksa or anyone else, they will not be able to secure a win at the Presidential Election.
The qualification to win the Presidential Election this time is to be people-friendly. Sajith Premadasa is one who can work. There may be others as well in other parties. They too need to be given an opportunity.
What is happening is that a  political party is deciding that a certain person will be the presidential candidate and we are forced to follow that person. I will not do so. I will support a leader who loves the country, who loves the people, who understands the pulse of the people and who we can speak to at any given time, no matter which political party that person belongs to. It's unfortunate that I, as a member of the UNP, cannot even communicate with them. Even my Chairman or secretary fail to do so. Even if I try to contact them through phone, their security staff answer the calls. However, if we meet on the road, they say hi and greet us loudly. These are of no use. When we call them, it is to resolve some issue or crisis. If they cannot solve these issues, why on earth did they join politics? We do not want such leaders.