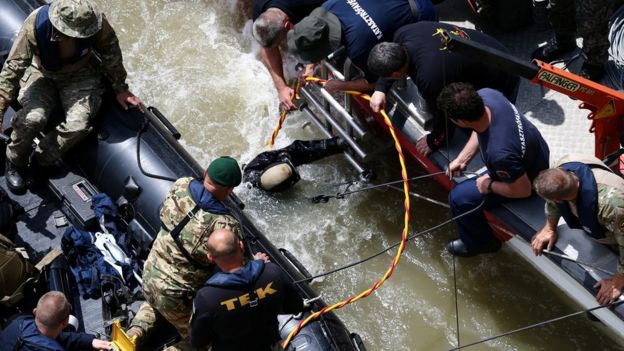 Strong river currents in the Danube continued to hamper a search operation on Sunday (June 2) for 21 people still missing after a boat accident killed at least seven people on Wednesday (May 29).
In the three days since the disaster, roiling floodwaters have prevented divers from reaching the wreck or recovering the rest of the bodies. Hungarian police said on Saturday (June 1) they had identified the seven bodies recovered so far, using finger and palm prints and photos shown to family members.
As the operation resumed in the morning, locals and tourists alike stopped along the riverbank near the site of the accident to lay flowers and lit candles to pay tribute to the victims.
The high death toll in the middle of a European capital has led to criticism of the rescue operation. Police spokesman Kristof Gal said helicopters with thermal imaging gear could not take off on Wednesday because of rain and wind.
Seven South Koreans perished in the accident while another seven were rescued on the night of the disaster. A further 21 people, 19 Koreans and two Hungarians, are missing and presumed dead.
Water levels in the flooded river are expected to begin subsiding, making it easier for divers to reach the wreck next week.