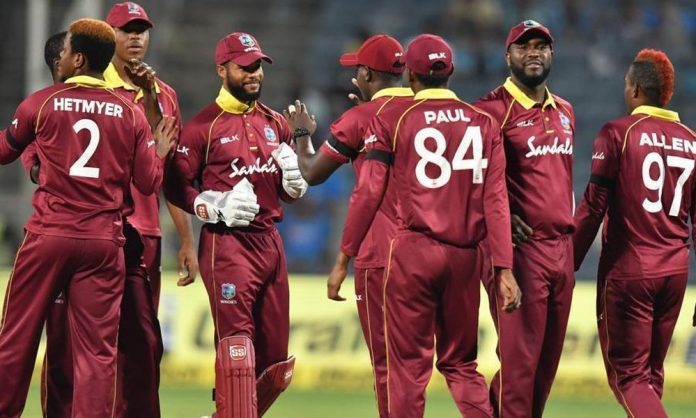 Even before the birds could go home, even before the long English evening could set, even before Pakistan could come to terms with the bouncers the West Indian pacers were unleashing, they were dragged out of the contest, never to make their way back.
West Indies won the toss, bowled out Pakistan for 105 – their second-lowest total in a World Cup – chased down the target with seven wickets in hand, bagged two points and a massive net run-rate boost, and it all unfolded in a matter of less than 34 overs.
It was only a match ago, a warm-up alright, West Indies had presented enough evidence of what their muscled and beefed batting order can do. And the venue of their opening encounter, Trent Bridge – one of the highest-scoring venues in the world cup country – was as perfect a venue as they would have liked to exhibit their skills, or fulfill what Shai Hope had said only a day ago – 'expect 500 from us'.
While they can score all the runs one-day cricket can imagine, the apprehension was always to be about how they were going to defend it. Jason Holder's answer was simple: attack and take wickets.
"Our style was just to be aggressive," Holder, the West Indies skipper, revealed after their easy win. "We just want to be aggressive with whoever we're playing against. It's just something that we need to do in order to pick up wickets. I think with the modern-day game, if you are not picking wickets up throughout the innings you're going to struggle to contain teams. So we just want to be aggressive even if we give up a few runs up front, trying to get wickets."
In having to stick with the plan, they opted for the pace of Oshane Thomas in the playing XI ahead of the experience of Kemar Roach. Holder explained that even though Thomas tends to be expensive and even overstep at critical times, like evidenced twice in Pakistan's innings, his ability to take wickets is what fits best with West Indies' plan. On Friday, it worked to perfection as the pacer bagged four wickets in less than six overs, to be named the Player of the Match in his debut World Cup game.
"He's been excellent," Holder said, heaping praise on Thomas. "In the last game he got five wickets and then he comes and follows it up with four wickets here today. It was great to see him running in and bowling fast. That's the one thing we ask of him, just to be aggressive in those middle overs, as I said before. He's working out quite nicely for us."
The skipper, however, added a word of caution for the young pacer, and said, "It's just a matter for us to be consistent with it, and at times not get carried away with it in terms of overdoing it."
While Pakistan's captain Sarfraz Ahmed passed the blame on the toss which proved crucial in West Indies gaining the early advantage, Holder refused to be in sync with his counterpart. While admitting that there was a bit of assistance for the fast bowlers early on, apart from other factors – like a deep batting line up and four pacers in his disposal – he refused to discredit the performances of his players.
"Cricket has to be played. It's set that the cricket starts at 10:30, and as I said before, it was a 50-50 toss," he said. "Whether you bat or bowl in the first half of the game, you've got to look to do it and do it well."
For all that Sarfraz would like to believe after Pakistan's 11th consecutive loss, the fact was Pakistan never found themselves anywhere at par in the contest. Even as Pakistan lost Imam-ul-Haq early in the innings, it was a spell of fast and short bowling by Andre Russell, starting in the sixth over, that gave West Indies the first big push in the encounter. He bowled just three overs, conceded only 4 and picked all of two wickets. Yet, while the new-ball pair was looking to trouble the opposition with swing, it was his spell that threw lights at Pakistan's weakness against short-pitched bowling and laid down the blueprint for the others to follow.
Acknowledging the effort of the all-rounder, Holder said, "His spell had a great impact, obviously. It started the slide for Pakistan, and again, he's one of those players that runs in and gives it his all. He has a lot of force going through his body, and he's one of those players that he will give you 110 percent every time he steps up to the plate."
Even as West Indies pacers have spent a lot of time bowling short in the nets and having aced in applying that in a match situation en route their first win, the skipper says they wouldn't necessarily continue with that tactic unless they sense that the opposition batsmen have a weak spot. Moreover, he believes the focus should now also be on how the bowlers follow up on the aggressive deliveries.
"I was pleased with the discipline. Outside the aggression, we need to be following up on our deliveries and building overs quite nicely," he explained. "One of the things we always harp on about in the dressing room is what are we bowling outside of the aggressive balls, whether it be a short ball or if you're going up there for a yorker or whatever it may be, you've got to follow up with some other deliveries. It's just about stacking overs nicely together and building some pressure."
Even as West Indies have taken a 5.8 NRR surplus from the win, there are a few concerns they will have to battle. Andre Russell suffered some pain in his ankle, while Chris Gayle had to battle out some back concerns during the course of the contest. Holder isn't certain of the magnitude of their injuries but hopes they will recover given that there are five more days to go for West Indies' next encounter.