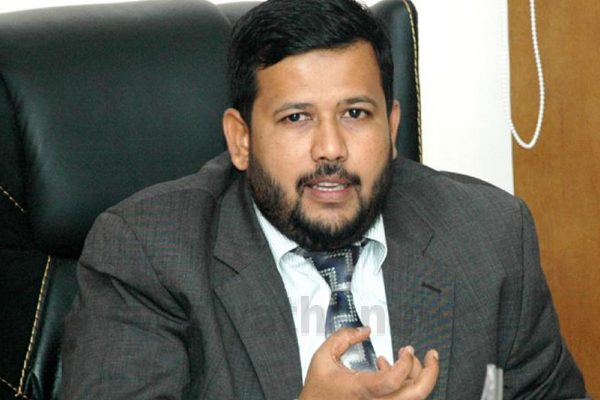 The No-Confidence motion against Minister Rishad Bathiudeen, signed by nearly sixty-four parliamentarians including the MPs of the Opposition, was handed over to Speaker Karu Jayasuriya yesterday (16).
Parliamentarians of Sri Lanka Freedom Party S.B. Dissanayake, Dilan Perera, Thilanga Sumathipala and Nishantha Muthuhettigamage, as well as UNP Parliamentarians Athuraliye Rathana Thero, Ananda Aluthgamage and Ashoka Priyantha, have also signed the no-confidence motion.
The 10 charges levelled against Minister Bathiudeen are as follows:
1 As the Army Commander's statement to Silumina newspaper published on 5th May 2019, states that Minister Bathiudeen has pressurized him to release suspects arrested over the Eater Sunday attacks,
2 For supplying empty shell casings to the copper factory owned by the suicide bomber at the Cinnamon Grand Hotel, Mohamed Ibrahim Insaf Ahmed, through the Ministry of Industry and Commerce,
3 Whereas there is a reasonable doubt that Minister Bathiudeen has politically influenced the police not to present the suspects, who were arrested at the said copper factory, before the court under Prevention of Terrorism Act and to grant them bail on 6th May 2019,
4 As the Treasurer of All Ceylon Makkal Congress K.P. Alahudeen, had been aware of the plans of the terrorists and failed to inform the authorities, and prevented the opportunity to take legal action against the terrorists under the Prevention of Terrorism Act,
5 As the two sons of a close acquaintance of Minister Bathiudeen lhaj Mohammed Yusuf Ibrahim had been the suicide bombers in the series of events,
6 As one of the suspects named Abdul Hanuth, who was arrested in connection with the incidents, had been a Pradeshiya Sabha member of the All Ceylon Makkal Congress and a secretary to Minister Bathiudeen,
7 As one of the advisors to Minister Bathiudeen, who had also been a Maulavi, is arrested on suspicion of being a terrorist,
8 As Rifkan Bathiudeen, a brother of Minister Bathiudeen was released over pressurization after being arrested by the Army, handed over to Mannar Police and later presented before the court,
9 As a strong public opinion, based on the information provided by the military forces and the police, emerged against the minister for his unnecessary influence over the investigations into the Easter Sunday attacks,
10 As strong links between the minister and the terrorists have been proven to exist, however, the police had failed to inquire him in this regard, and his ministerial post appears to hinder ongoing investigations,
The parliamentarians who have signed the motion state that they no longer pose confidence in Minister Bathiudeen.