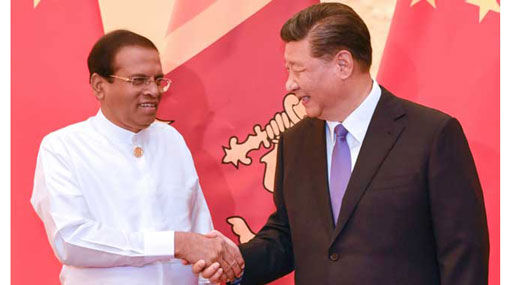 President of China Xi Jinping has assured President Maithripala Sirisena that China is ready to render its support to Sri Lanka to eradicate terrorism and to ensure the country's security.
During the bilateral discussions held between President Sirisena and the Chinese President Xi Jinping yesterday (May 14), the steps taken by the government to ensure the national security following the April 21 terrorist attack as well as the steps taken to protect the country's people were discussed in detail.
Chinese President has agreed to provide modern technical equipment and knowledge required to curtail terrorism and cyber crimes.
The Chinese government will also grant a financial donation of Rs 2.6 billion for the activities of the security forces in the aftermath of the emergency situation resulted by Easter attacks.
As per the special request made by President Sirisena, the Chinese government has agreed to provide 100 SUVs to the Sri Lanka Police Department.
President Sirisena and President Xi Jinping have entered into a significant agreement following the bilateral discussion held yesterday. President Sirisena is slated to sign two more agreements with China regarding the mega-investments done by China in Sri Lanka and providing Chinese assistance for the national security of Sri Lanka.
The Chinese President has deplored the Easter attacks and expressed his condolences to the Sri Lankans affected by the terrorist activities.
He also commended President Sirisena's implementations against the drug menace in Sri Lanka.
In addition, President Sirisena is slated to address the Conference on Asian Civilizations Dialogue today (15) and explain the current situation of the country and the positive steps to be taken for the future of the country.
The President will also explain the operations carried out by the security forces under his instructions to defeat the motives of the extremists and to strengthen the law and order situation.