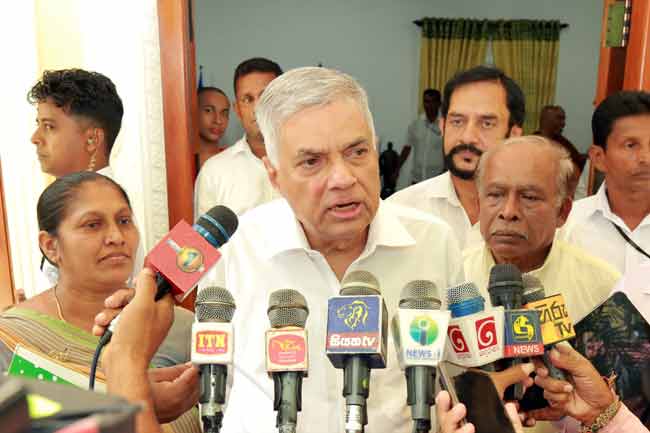 Prime Minister Ranil Wickremesinghe says that not only Buddhism, but all other religions in the country, be it Hinduism, Islam and Christianity; have special 'Sri Lankan characteristics' to them which need to be protected.
"It is because of these Sri Lankan characteristics that we have a common Sri Lankan identity. We cannot allow extremism to suppress them. If extremism is attempting to suppress these characteristics, we have to take every necessary step against it," he said.
The Prime Minister made these comments while speaking to reporters after meeting with the Maha Nayake Theras of the tri-nikayas in Kandy today (09) and discussing the current situation with them.
"We have to ensure there is no reoccurrence of such incidents in the future. We can't expect that it will end from here," he said, adding that they can be prevented if we continue to remain vigilant of the threat.
"At the same time we have to act to end extremism." He said that he has already been briefed by the Muslim Religious Affairs Minister M.H.A. Haleem regarding the laws that have been drafted so far, the measures taken and discussion held with Muslim and Christian clergy thus far.
Asked about the objections being raised towards the proposed Counter-Terrorism Act, the PM said that the draft legislation will be further discussed with the party leaders.