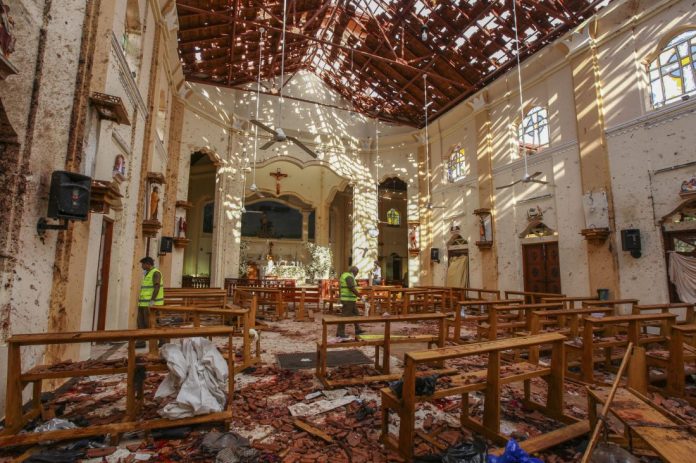 The Heads of delegation of the 16th Ministerial Meeting of the Asia Cooperation Dialogue (ACD), held in Doha on May 1st, have expressed condolences of their respective governments and pledged solidarity with Sri Lanka in its fight against terror, the Ministry of Foreign Affairs said.
The Ministerial Meeting was preceded by the meeting of the Senior Officials and followed by the ACD Business Forum.
Foreign Minister Tilak Marapana who led the Sri Lanka delegation has stated the Easter Sunday attacks in Sri Lanka demonstrated that terrorism is a global threat and one which needs to be dealt with the concerted efforts of all states.
He has further stated that combating terrorism and other transnational crimes and dealing with the rise of violent extremism had become an issue of global concern to governments.
Minister Marapana has added that terrorism has a direct impact on human rights, on the physical integrity of individuals, their right to life and liberty. In addition, terrorism can destabilise Governments, jeopardise peace and security and negatively impact on social and economic developments which also have an impact on the enjoyment of human rights.
Minister Marapana has emphasized that the Sri Lankan emergency response conducted by the tri-forces and the police had been successful in apprehending and identifying the terror suspects to bring the situation under control.
Sri Lanka has welcomed the initiative of Qatar to establish the ACD Business Forum which would pave way for the respective Business Communities to interact and forge mutually beneficial and advantageous partnerships.  The Sri Lanka Export Development Board has led the Sri Lanka delegation to the ACD Business Forum held on 2nd May 2019.
Minister Marapana has held bilateral meetings with his counterparts of Qatar, Iran and Turkey and discussed matters of mutual importance, the ministry said.
Director General Export Development Board Jeewani Siriwardhane has made a comprehensive presentation on how Sri Lanka is developing SMEs through the National Export Strategy and held discussions with private sector representatives from Turkey, Qatar, Indonesia and the Philippines who took part in the ACD Business Forum.
Minister Marapana has met with representatives of the 130000-strong Sri Lankan community living in Qatar where their concerns about the current situation in the country, issues facing the community in Qatar and measures to improve the entry of skilled labour and professional employment to Qatar were also discussed.
Director General Economic Affairs of the Ministry of Foreign Affairs Saroja Sirisena, Chargé d'affaires of the Embassy of Sri Lanka in Doha Ratnasingam Kohularangan, Director General of the EDB Jeewani Siriwardhane and representatives of the private sector were associated with the meeting.