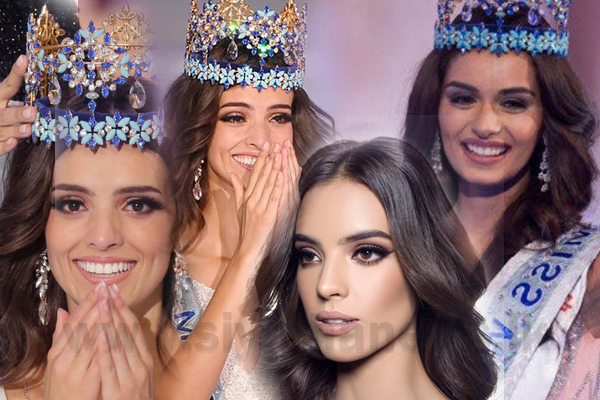 The wait finally comes to an end. After Manushi Chhillar's beautiful reign as Miss World 2017, Miss Mexico Vanessa Ponce De Leon has been crowned as Miss World 2018. After entering the Top 5, Miss Mexico won hearts with her beautiful smile and the off-shoulder ivory gown with fine silver embellished details. With our in-house beauty, Manushi passing the crown forward, the crowning moment was as glorious as we could imagine.
The show begins with a performance by Donel who performed to Bang like a drum. Followed by an introduction, the gorgeous beauty queens arrive on stage and perform a small dance sequence from their countries. With a revised format in Miss World this year, a diva will be crowned Miss World from every continent.
Beauty with a purpose is an essential part of the crown with the contestants actively participating in humanitarian causes. This year's winner for the Beauty With A Purpose goes to Miss Nepal. The judges selected 13 girls who made it to the Top 30. The Top 30 contestants were: They are Miss People's Republic of China. Cook Islands, Belarus, Belgium, Northern Island, Miss Russia, Miss Scotland, Miss Nigeria, Miss South Africa, Miss Panama, Miss Barbados, Miss Jamaica, Miss Nepal, Miss Japan, Miss USA, Miss Mauritius, Miss Venezuela, Miss Bangladesh, Miss Chile, Miss Malaysia, Miss India, Miss Singapore, Miss Thailand, Miss Mexico, Miss Uganda,
From Europe, Miss Belarus, Miss France, and Miss Scotland made it to the Top 12. From the Carribean Miss Jamaica and Miss Martinique who made it to the Top 12. Miss Mexico and Miss Panama made it to the Top 12 from Americas. Miss Mauritius, Miss Uganda are all set to enter the Top 12 of the competition. Making it to the Top 12 from Asia and Oceania are Miss Nepal, Miss New Zealand, Miss Thailand.
Miss World Europe 2018 is Miss Belarus
Miss World Carribean 2018 is Miss Jamaica
Miss World Africa 2018 is Uganda
Miss World America 2018 is Miss Mexico
Miss World 2018 Asia and Oceania is Miss Thailand
After a stressful question and answer round, the show progresses with Chairperson of Miss World announcing that the Miss Worlds from the continents will be travelling along with Miss World 2018 to their tour for Beauty With A Purpose. The Runner-up was declared as Miss Thailand with Miss World 2018 as Miss Mexico, Venessa Ponce De Leon.
Sri Lanka was represented at the world pageant by this year's Siyatha Facia Miss World Sri Lanka 2018 Winner Miss. Nadia Gyi.