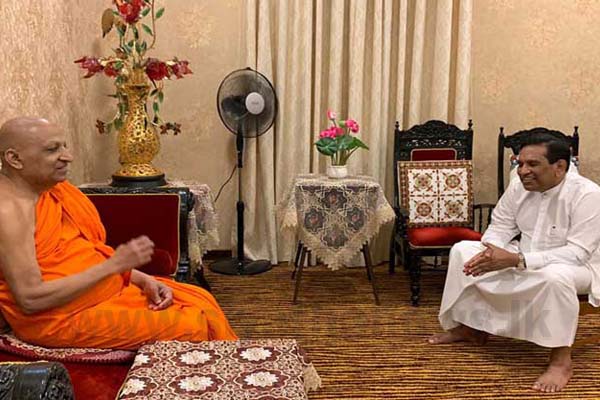 Parliamentarian Rajitha Senaratne has discussed the prevailing political situation with the Chief Prelate of Malwathu Chapter Most Venerable Thibbotuwawe Sri Sumangala Thero.
Visiting the Chief Prelate Ven. Thibbotuwawe Sri Sumangala Thero yesterday (24), MP Senaratne had held a cordial discussion for nearly an hour.
Reportedly, the President's decision to dissolve the Parliament, the appointment of a new Prime Minister, the actions of former President Mahinda Rajapaksa, current political turmoil and the measure that should be taken to resolve the existing issue have been discussed at length during the discussion.
The Chief Prelate has pointed out that the country is being dragged to destruction owing to this political situation and the country would be held in contempt before the international community.
He has also appreciated the poor- friendly healthcare programme implemented by MP Senaratne as the former Minister of Health.
Ven. Thibbotuwawe Sri Sumangala Thero has requested the Parliamentarian to work together with all the political leaders of the country to resolve this political issue.