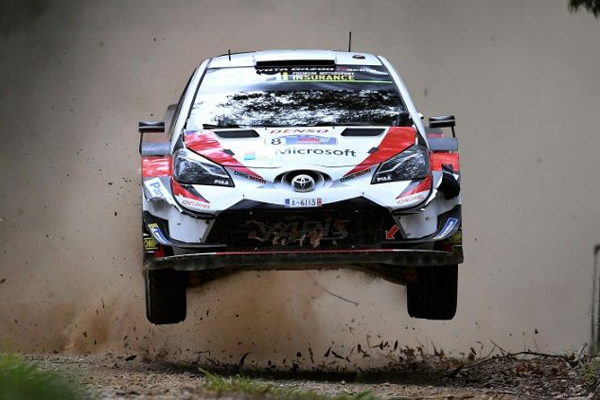 Dominant Frenchman Sebastien Ogier clinched his sixth world rally title Sunday in a gripping final race of the year at Australia, denying Belgian Thierry Neuville and Estonia's Ott Tanak maiden crowns.
In one of the closest seasons of recent times, the M-Sport Ford driver came to Coffs Harbour with a three-point cushion over Hyundai's Neuville and 23 in front of Toyota ace Tanak.
All he needed to do was stay ahead of the Belgian and in touch with Tanak over the three days of frantic driving along dusty and slippery roads.
The experienced campaigner and his co-driver Julien Ingrassia did just that, getting an early edge when Neuville lost 40 seconds on day one after blowing a tyre.
When Neuville swiped a bank and ripped a wheel from his car and Tanak clipped a tree, forcing their retirements as they took risks in a desperate bid to make up time on Sunday afternoon, the title was his before the rally finished.
Toyota (368 pts) won the constructors championship ahead of Hyundai (341), M-Sport Ford (324), and Citroen (237).
Ogier admitted he drove some of the stages Sunday "like my grandma would do", knowing any mistakes could be costly at a race won by Finnish Toyota driver Jari-Matti Latvala, 32.5secs ahead of New Zealand's Hayden Paddon in a Hyundai.
"It's been an incredible season, so tough, and this is so emotional," said the Frenchman, who finished fifth in Australia.
"I am so proud of what I have achieved and so proud of our team. We've had an amazing journey together."
He has now won six titles in a row to move within three of the greatest driver ever, fellow Frenchman Sebastien Loeb, who claimed nine on the trot between 2004-2012.
It was his last race for Ford ahead of a switch next year to Citroen on a two-year deal.
He was part of the Citroen team between 2008-11 before decamping to Volkswagen between 2013-16 when he won four world titles, and then M-Sport Ford where he won his fifth and sixth.