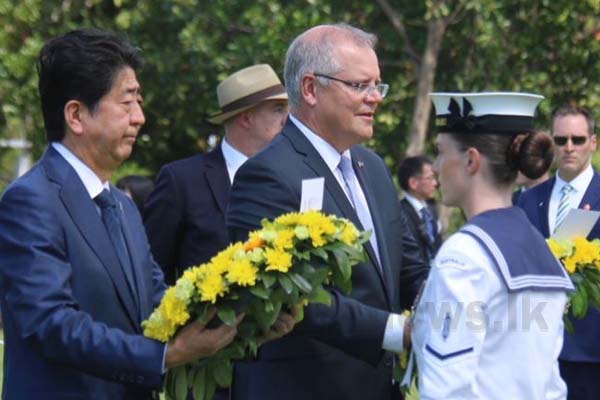 In a historic moment, Shinzo Abe has become the first Japanese leader to visit Darwin, Australia, since it was bombed by Japan during World War Two.
The first raids in February 1942 left about 250 people dead, hundreds more injured, and destroyed numerous Allied ships as well as much of Darwin itself.
Mr Abe joined Australian PM Scott Morrison in laying wreaths in a solemn ceremony at the city's war memorial.
Mr Morrison has described the visit as a "time of healing" and friendship.
The leaders observed a minute's silence, remembering the worst wartime loss of life on Australian soil.
They also paid respects to 80 Japanese sailors who died when their submarine was sunk off Darwin in January 1942.
Speaking on Thursday, Mr Morrison said: "Prime Minister Abe's visit is deeply symbolic and significant and it will build on our two countries' strong and enduring friendship, as well as our economic, security, community and historical ties."
He acknowledged, however, that Australians "directly touched" by the events may find the moment difficult.