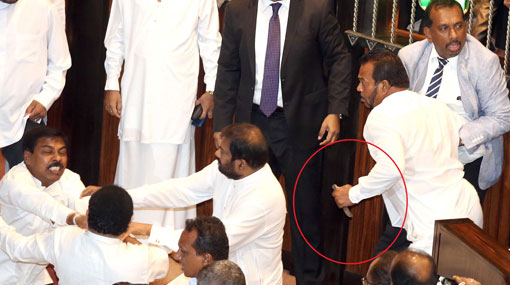 A complaint has been lodged against MP Palitha Thewarapperuma for brandishing a knife inside the Chamber of the Parliament yesterday (15).
Attorney-at-Law C. Dolawatte stated that the complaint was filed at the Police Emergency Service yesterday (15).
A tense situation emerged during the Parliamentary session yesterday, when a no-confidence vote against the special statement made by Prime Minister Mahinda Rajapaksa was called by the Speaker.
Footages of MP Thewarapperuma holding a knife and brandishing it during the tense situation were propagated through media.
Attorney-at-Law C. Dolawatte further emphasized that no cover-ups will be allowed for criminal misconducts under the parliamentary privileges.