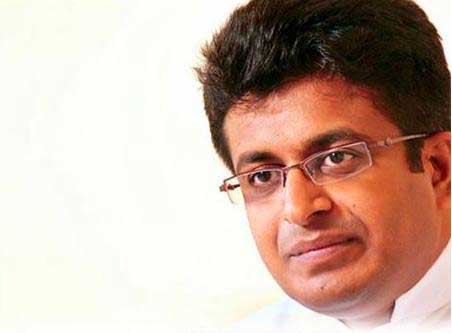 UPFA MP Udaya Gammanpila says that by sending a flawed motion of no-confidence to the President and claiming it was passed in Parliament, the Speaker has become 'a joker' in the face of his 'ignorance'.
Speaking at a press briefing at the Parliamentary Complex today (15), he said that on one side a proper no-confidence motion has not been presented and it has not been presented properly by following due process.
He also claimed that the Speaker has not declared that a no-confidence motion was passed in Parliament. "Then by sending this motion (to the president) the Speaker has become a joker in the face of his ignorance."
He further charged that today the Speaker took his to "hilarious behavior" one step further.
Gammanpila claimed that the Speaker had two stances about acknowledging Mahinda Rajapaksa as the Prime Minister and that usually only mental patients tend to change their stance this frequently.
"I cannot say that he has a mental illness because I am not a psychiatric," he said, however adding that "this behavior is questionable."
The MP said that only the people can resolve this political crisis, emphasizing that a General Election is needed in the country.