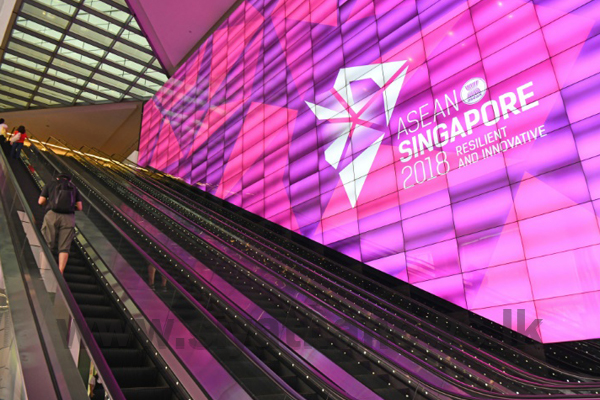 World leaders will push for the rapid completion of a massive, China-backed trade deal that excludes the US at a summit this week, in a rebuke to rising protectionism and Donald Trump's "America First" agenda.
China, Japan, India and other Asia-Pacific countries could announce a broad agreement on the Regional Comprehensive Economic Partnership (RCEP), which covers half the world's population, on the sidelines of the annual gathering.
Not only is the US absent from the deal, but Trump is skipping the summit in Singapore, highlighting how far he has pulled back from efforts to shape global trade rules and raising further questions about Washington's commitment to Asia.
Trump launched his unilateralist trade policy with a bang shortly after coming to office by withdrawing from the Trans-Pacific Partnership, a deal spearheaded by predecessor Barack Obama that aimed to bind fast-growing Asian powers into an American-backed order to counter China.
His approach has left the floor open for Beijing to promote a rival pact it favours, the 16-member RCEP, a free trade deal which also aims to cut tariffs and integrate markets, but gives weaker protection in areas including employment and the environment.
The pact championed by Obama has been kept alive even without the US, and is due to go into force this year, but the Beijing-backed pact has now overtaken it as the world's biggest.
Announcing in Singapore that talks for the deal – which formally began in 2012 – are mostly concluded would be "important as a symbol of Asia's commitment to trade at a time of rising global tensions", Deborah Elms, executive director of the Asian Trade Centre, told .