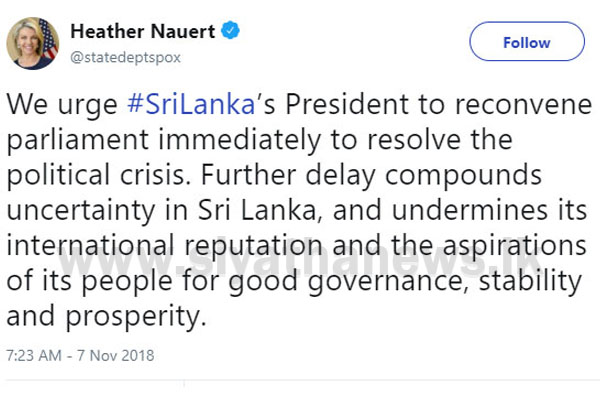 The United States has urged Sri Lankan President Maithripala Sirisena to reconvene the country's parliament right away and resolve the country's political crisis.
"We urge Sri Lanka's president to reconvene parliament immediately to resolve the political crisis," US Department of State spokesperson Heather Nauert said in a statement via Twitter.
A further delay would compound uncertainty and undermine Sri Lanka's international reputation as well as the aspirations of Sri Lankans for good governance, stability and prosperity, she said.
Meanwhile the UK's Minister of State for the Foreign and Commonwealth Office, Mark Field said the FCO was "deeply concerned by the political situation in Sri Lanka".
Responding to a written question by the shadow foreign secretary, Emily Thornberry asking if the UK recognised Ranil Wickremesinghe or Mahinda Rajapaksa as Sri Lanka's prime minister, Field replied, "it is our position that we recongnise states not governments."
"Naturally the FCO is deeply concerned by the political situation in Sri Lanka," Field added.
"I have called on all parties to ensure that the constitution is respected and due political and legal process upheld. On 29 October I made a public statement urging the President, in consultation with the Speaker, to reconvene parliament immediately to give the democratically elected representatives of the Sri Lankan people their voice," he said.