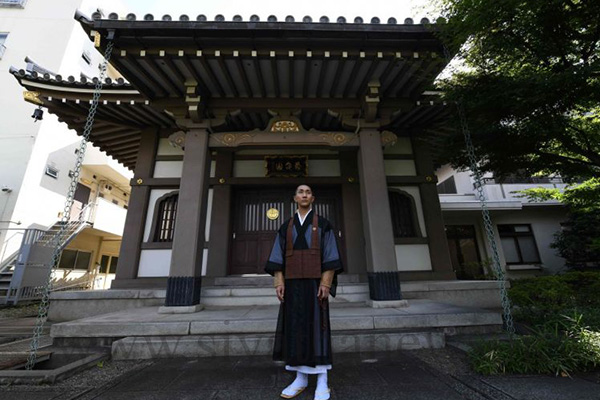 As make-up artist Kodo Nishimura sashays into a room in Tokyo balanced on pin-thin heels, he could hardly look less like a practising Buddhist monk.
Immaculately made-up, sporting smoky eyeshadow, false lashes and winged eyeliner, he changes outfits three times during a presentation to starry-eyed fans.
But at the Tokyo temple where his father is head monk and he assists in rituals, he appears transformed. His face is bare, and he wears the plain robes of a Buddhist cleric.
It might seem like an unusual double act, but that doesn't bother 29-year-old Nishimura.
"This is who I am," he said. "I am not going to try to be something else."
Nishimura is primarily a make-up artist, beautifying clients ranging from popstars to pageant contestants.
He spends most of the year in the United States, where he first openly indulged a passion for make-up that he kept secret as a child in Japan, hiding in the bathroom to experiment.
"I would open my mum's Chanel eyeshadow palette and I would try to put it on my face. But I looked crazy, I looked like a clown," he laughs.
Studying in the US, he found things were different. He discovered drag queens working at make-up stores who were happy to answer his questions. At 18, he made his first purchase: mascara and eyeliner.
An internship with a make-up artist led to a job. Back home, his parents surprised him by being supportive of his career choice.