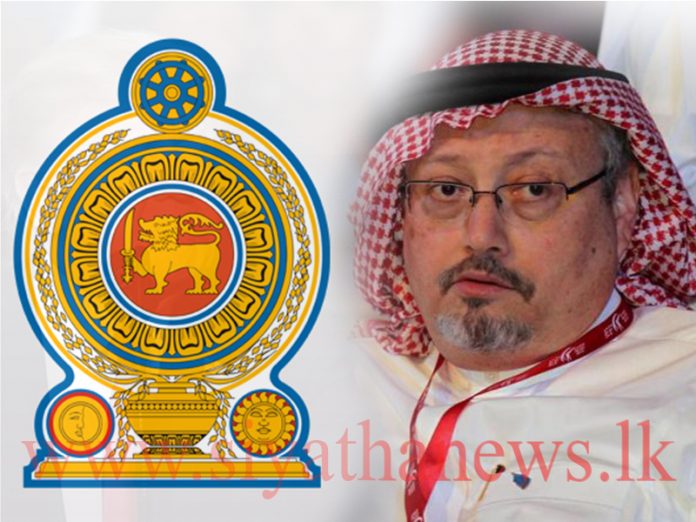 The Free Media Movement of Sri Lanka today (25) called on the government of Sri Lanka to condemn the 'brutal killing' of journalist Jamal Khashoggi inside Saudi Consulate in Turkey and to raise the issue with the government of Saudi Arabia.
"We demand for those responsible for his murder to be held accountable, and given the circumstances, feel only an international investigation can lead to truth," it said.
Issuing a statement condemning the journalist's assassination, the Sri Lankan media watchdog stated that the Saudi government should extend its fullest cooperation towards international efforts to investigate the murder.
"We also demand Saudi Arabian government to release journalists and activists in detention and stop the repression of dissent."
"We call on the Sri Lankan government to condemn Khashoggi's killing and repression of Saudi journalists and dissidents, and raise these issues with the Saudi government," the FMM said.
Journalist Jamal Khashoggi, a strong critic of Saudi Crown Prince Mohammed bin Salman, went missing on October 2 after entering the Saudi Consulate in Istanbul, Turkey, to obtain documents needed for his upcoming marriage.
Despite Turkish authorities claims of having evidence of his brutal killing inside the consulate, the Saudi government for weeks, denied and claimed he had left the Consulate. It is only recently that the government of Saudi Arabia has confirmed that Khashoggi was killed inside the consulate.
However, the Saudi government's version that a fist fight led to the killing of Khashoggi is not credible at all, according to the media rights group.
Khashoggi  was the former editor-in-chief of the Saudi newspaper Al-Watan, Khashoggi and had been a Columnist for the Washington Post. He had been living in exile in the United States of America since September 2017.
He had criticized politically motivated arrests and was one of the first to report the arrest of another prominent Saudi columnist Saleh al-Shehi earlier this year.