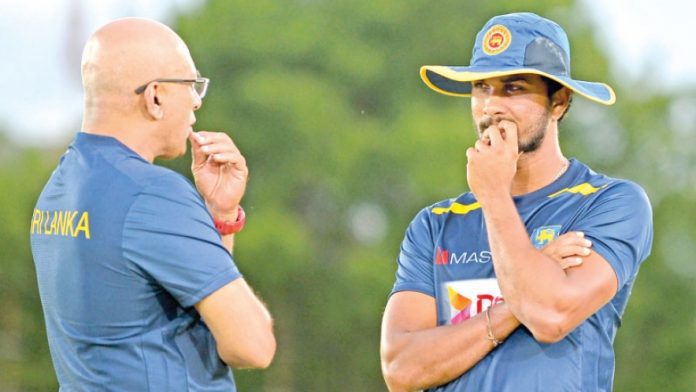 It is clear as day for everyone who follows cricket that Sri Lanka's weakness in One-Day International (ODI) cricket lies with their batting and fielding.The batting since the retirements of Mahela Jayawardene, Kumar Sangakkara and Tillakaratne Dilshan has not touched the heights of that bygone era and Sri Lanka's performances over the last one year or so has resulted in more defeats than wins largely due to the batsmen being unable to put up decent totals for their bowlers to defend and the drastic drop in fielding standards.
The key to winning in one-day cricket is batting and fielding. It is in these two areas that Sri Lanka excelled and was head and shoulders above everyone else when they won the World Cup in 1996.
That standard was maintained throughout for the next two decades thanks largely to a surfeit of foreign coaches handling the national team.
Sri Lanka's gradual decline in one-day internationals began with the departing of the last legendary batsman Tillakaratne Dilshan in August 2016 – Jayawardene and Sangakkara had already quit at the end of the 2015 World Cup.
Their replacements have struggled to fill into those big boots left by the legends and that is part of the reason for the team's dip in fortunes.It's not that Sri Lanka are bereft of talent, there is plenty of it out there, provided it is spotted and harnessed properly.
Constant chopping and changing of teams from series to series has left the players unsure of themselves and where their future lies.
Sri Lanka has not had a settled batting order for almost two years and this has proved detrimental to the team's instability at international level where the word CONSISTENCY has simply disappeared.With the World Cup barely seven months away Sri Lanka has yet not got their composition of the side right.
One has only to look at the eleven picked for the first ODI against England at Dambulla where they named only five specialist batsmen of which one of them was the wicket-keeper, knowing very well that our weakness lay in our batting. Thankfully the game did not go the full distance as rain allowed only 15 overs.
The head coach who is also a selector went to great pains to explain the dropping of Angelo Mathews by revealing stats on the number of times he has been run out and how bad a runner he was between wickets.
One wonders whether he has looked into how many occasions Sri Lanka has failed to bat out the full quota of 50 overs.Since January 2017 Sri Lanka has played 41 ODIs and lost 30 of them and failed to bat out the 50 overs on 22 occasions. Don't those figures tell you where are weakness lies? Sri Lanka's bane is their batting which has been rather inconsistent, so instead of trying to rectify and strengthen the weakness we are still persisting with this combination of playing only five specialist batsmen – that too without the experienced Mathews and the exceptionally talented Kusal Mendis – and overloading the side with all-rounders instead of going for a 7-4 combination of seven batsmen and four bowlers that has proved to be our success over the years.